How To Write Devotions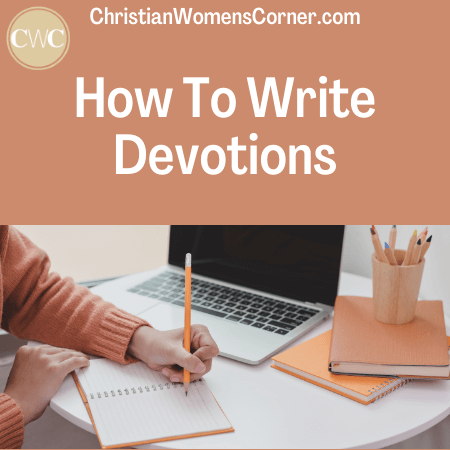 Laura was a stay-at-home mom living in Michigan. She longed to write faith-based content because she wanted to share what she'd been learning on her own spiritual journey. 
But Laura wasn't sure how to get started. Her Sunday School teacher encouraged her to begin by writing a few devotions. He explained, "This will let you try writing and see if it's something you enjoy."
What Are Devotions?

If you're not familiar with devotions or devotionals, they are faith-based content pieces that typically feature a Bible verse, an example that explains the verse, or an exposition that enriches the reader's understanding, and finally, a prayer. 
Some devotions may include questions for reflection or even journaling sections, but these are considered "extras" and not necessary with every devotional.
Devotions can be long or short. A few examples of short devotions can be found on websites like Our Daily Bread, The Upper Room, and Devo Zine.
Of course, there are websites and blogs where devotional content is much longer, such as Proverbs 31 Ministries, Encouragement Café, and Guideposts.
Getting Started with Devotions

If you feel a tug to write devotions or other faith-based content, give it a try. Follow the Holy Spirit's nudge. You never know how God might use your words to uplift someone else.
The best way to begin writing a devotional is to pray about it. Invite God into the process and ask His Holy Spirit to guide you as you work
As you move from a time of prayer, pause. Ask yourself if any thoughts are bubbling up. Is there a topic that God is whispering over you? Is there a theme that you feel nudged to explore? Perhaps there's a Bible verse going through your head all day.
Some Christians don't know the topic of their devotional at first. They just feel led to write about a story or experience from their own life. That's what happened to Jared. He didn't feel called toward a theme or Bible verse. 
But he did want to share a story from his own childhood. He started writing down what he could remember about it and realized his earthly father's actions perfectly illustrated God's deep and faithful love.
Look Up Lists

If you have an idea of your topic but still struggle with what to say, research might be helpful. Use a search engine to find Bible verses by topic. For example, you might type: "Bible verses about anger," "Bible verses for grieving families," or "Bible verses on sexual immorality." 
Type the search terms above without quotation marks, and you'll get dozens of websites that have already compiled the verses for you. Then you can look up those Bible verses in your preferred translation. Two good Bible translation websites include Bible Hub and Bible Gateway.
Brainstorm It Out

If you're still stuck and unsure what to say in your devotional, it might be best to do a quick brainstorming session. Try to write down 5-10 things you could share in a devotional. For example, Laura's list looked like this…
How the kids searched so earnestly for Fluffy when she went missing and that God is always searching for us
Finding those seashells along the beach and how God never misses a detail of my life
When Scott taught me how to cast a line on our honeymoon and why God wants us to cast our cares on Him
That time when I lost my cool and yelled at the store clerk and how God nudged me to be humble and seek forgiveness
Going to the state park to explore with the kids and discovering how Scott had already packed the supplies when I forgot. God is like Scott—always providing before I even know what I need.
Keep in mind that your list doesn't have to include perfect grammar or spelling. You're just brainstorming, and you're the only one who will ever see the list. You're trying to capture a few ideas so you can start writing.
Do save your list when you're finished! You may find inspiration from it again later or discover that it sparks a follow-up devotional at another time.
Share Someone Else's Story

Sometimes, you may hear a friend or loved one share a story that would make a perfect devotional. It might be tempting to write up the story and send the devotional out into the world.
The problem with this is that it can damage your relationship, create trust issues, and it isn't a great idea. You're better off getting permission to share the story in advance. 
You can say something simple like, "I love your story of how God provided for you and the kids after your divorce. I write devotions, and I'd like to share it. Would that be OK?"
Some people are very open to this and like the idea that their life is interesting enough to feature in a devotional. Others might be willing to share their story if you change their name and other identifying details.
Still, some will give you a flat-out "no." Always respect the other person's wishes and don't try to convince someone to have their story featured if they don't want to. Trust that if God wants their story shared at some point, He will arrange the circumstances to bring it to pass.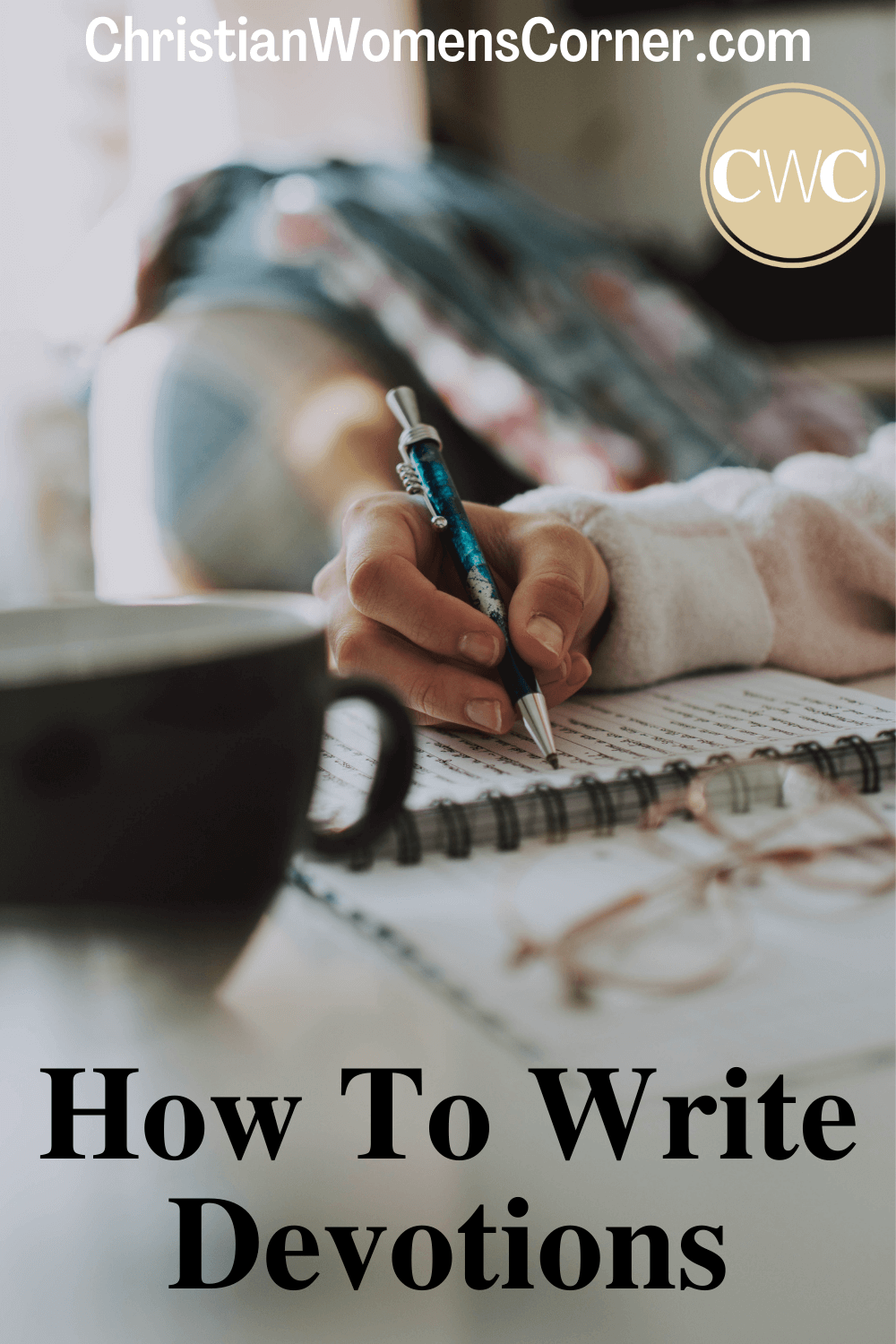 Writing Prayers

You'll want to include a prayer at the end of each devotional. In most cases, these prayers don't have to be long and only need to be 2-3 sentences.
Understand that the purpose of the prayer is to invite the reader into God's presence and start the conversation. From there, they'll continue to speak with God as the Spirit moves them.
If you're struggling to write the prayer part of a devotional, pray over it. Ask God for wisdom and inspiration. Remember that these prayers don't have to be particularly eloquent, just heartfelt. 
For example, here are three prayers from a devotional on chronic illness:
God, I confess: I can't see Your plans, but I choose to trust Your hand. You are always kind to me and always gracious. Grant me faith that's bigger than my fear. In Jesus' name, Amen!
Jesus, thank You for staying the same. When I get scared and overwhelmed by my illness, comfort me with Your sweet Presence. In Your name, I ask this, Amen!
God, help me! I don't understand, and I keep trying to make sense of this…help me lay my questions down and rest in You. Comfort my frail, aching heart today. In Jesus' name, Amen.
As you can see, these prayers use simple words and focus on emotions. They are meant to be a bridge, drawing the reader into God's presence.
Including Extras

Sometimes, a devotional includes a thought-provoking question or a journal section at the end. Before you decide to include one, think about what you're hoping to do with this devotional.
If you'd like to publish your content through a magazine or a faith-based blog, the editor most likely has a format already in place. Study their current devotions and look up the submission guidelines before adding a journal area or extra content. 
You can find writing guidelines for most publications by using a search engine. Just type something simple like "(Publication Name) + Submission Guidelines" or "(Blog Name) + Guest Post Submission" or "(Magazine Title) + Writing Guidelines." 
Search these terms without quotation marks and see what appears. Most publications that accept material from writers will proudly display their guidelines on their websites.
If you plan to publish your devotional yourself on your website or as part of a book, try to establish a format. For example, will all of your devotions include a thought-provoking question? Will all of your devotions feature an area for the reader to write their own prayer?
By getting clear on your format, you'll make it easy on yourself when it comes time to publish the content (whether on your blog or in a book). You also make it easy for readers because they know what to expect from you.
Fill Your Cup

Writing devotions is a bit like pouring out a full cup into someone else's empty cup. You get the wonderful privilege of sharing your faith walk with another person. You get to fill their cup.
But now, your cup is empty. That means if you hope to create faith-based content like devotions, you need to be working to constantly fill your own cup. You can do this through spending time with God in prayer, meditation, and Bible reading.
Remember, you are a vessel. You are a cup of encouragement to another weary traveler in the world. But you are not the solution. 
Your words don't come from you—they come from Jesus, the Living Water. Constantly basking in His presence and talking with Him is the only way to keep refilling your cup.
You may also find it helps to refresh your soul by reading other devotions frequently. Consume faith-based content as well. Subscribe to spiritual publications and borrow Christian living resources from your local library.
You don't have to agree with every piece of content you read or consume from other Christian creators. A controversial piece may just be the spark you need to write a great devotional with a compelling point of view.
But you need to be constantly exposed to new ideas from other content creators. You want to have a vast well of inspiration to draw on when it's time to sit down and write. You will find it easier to create; it will add richness and depth to your writing that can't be manufactured any other way.
Embrace Different Seasons

Understand that just as seasons come and go in the world around you, seasons also come and go in your writing life, too. It doesn't mean that one season is better or worse than the next.
When Jane was a stay-at-home mom, she spent years writing devotions and encouraging women across the globe as a ministry leader.
Jane's husband had a massive stroke when her kids were grown and required round-the-clock care. Jane gave up writing her devotions so she could minister to her husband during this time. 
Jane would get notes from readers who appreciated her devotions in the following years. Her words were still inspiring, encouraging, and reaching people even though her life no longer looked the same.
You may go through a season of writing where you can churn out dozens of devotions by the power of the Holy Spirit. If that's where you are, there's certainly reason to rejoice.
But if you're a busy mama or an exhausted caregiver and all you can write is one devotional a week or every two weeks, that's still worth celebrating. God isn't comparing the progress of His children in any area, including their writing endeavors.
Just Write

If you feel called to write or the Spirit keeps nudging you toward it, take a chance. Experiment and start creating devotions. 
Too many writers get caught up thinking their work must be perfect or amazing for it to please God. But that's not true. 
If all you do is pour your heart into your writing, it's still a beautiful offering back to God. It's a sacrifice of your time and talents that delights God and creates a sweet-smelling fragrance in His presence.
Can I pray for you today, friend?

Dear God, I thank You for this writer who longs to use their gifts for You. Fill them with fresh inspiration. Open their spiritual eyes. Let them feel the joy of Your presence as they work. In Jesus' name, Amen.
Grace and peace,
Alicia