About Alicia: Wow, A Whole Page Just About Me!
Me talking about myself

Hi! My name is Alicia Bowyer and welcome to my "About Me" page. A fun page where I get to do nothing except talk about myself. Where do I start?
About Alicia
As you can probably already tell, I love Jesus! I grew up in a Christian home and had one younger brother. We were a military family and spent time living in many different parts of Canada. Right now, I call Barrie, Ontario, Canada, my home, and have lived here for almost 20 years.

I would write a typical Christian testimony here but decided to give you a picture of what my life currently looks like right now in a nutshell.
Let's jump right in…
I'm a single mom with three kids. I went through a separation and divorce in 2013. While this is not how I wanted my life to turn out, it is how it ended up. Being a single mom is not easy, but I trust the Lord and what He's going to do with my future.
My oldest daughter is married and has a son. (I'm a Memaw!) My middle daughter lives with friends, and my teenage son lives with me at home. Our days can be messy and chaotic; other days can be quiet and peaceful. I appreciate both.
My son has complex needs. He has autism, intellectual developmental disorder, and mental health issues, and this situation makes life very difficult some days. I have lots of support from family, friends, professionals, and the local Church I attend. I'm not sure how things will turn out for my son at the moment, but I trust that the Lord does, and I know He has a plan for him.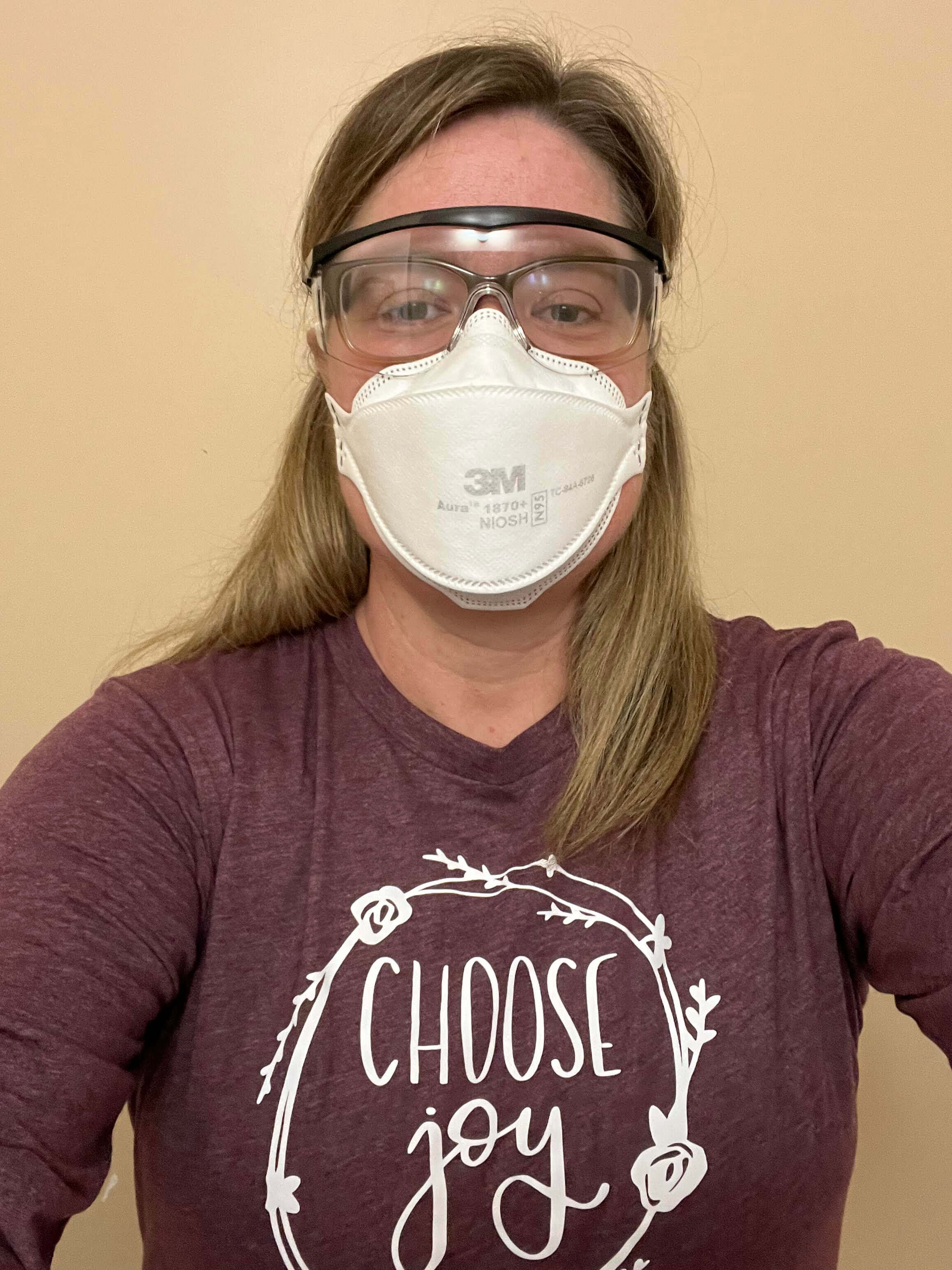 I work as a direct support professional in a local group home for people with developmental delays and mental health issues. My relationships with the residents are beneficial for both of us. I receive more joy and blessings from them than I could ever repay. But, I can repay them just a little bit by assisting them with their daily needs, which I love to do.
So, yes. My life is a beautiful mess, as they say.
Volunteering at my local Church keeps me sane. I've played hand drums like congas and cajon for over 25 years now and love this type of outlet. It allows me to be creative and share my love of Jesus with others through music.
I love working out, strength training, going on walks, and spending time with my family. Balance is important to me, so I also enjoy eating pizza and tacos and napping/sleeping in whenever possible.  Some of my personal goals in life are figuring out how to eat my body weight in pizza and still stay slim, growing closer to Jesus, and assisting my kids in any way I can.
Why I Created Christian Women's Corner
Creating Christian Women's Corner came to me one day when I was talking to a good friend. We discussed how hard it was to keep up with daily prayer and Bible reading and telling others about Jesus who don't share our faith. Some may not struggle with these three things, but many do.
I wanted to take the knowledge that I've gained from over 40 years on my Christian walk and help others.
I realized that I knew how to do these three things, and I had the leadership and mentoring skills to assist others, but what I lacked were accountability and an online technological platform.
Which leads me to…
How Christian Women's Corner Can Help You (And Me)
Ok. So I guess this page isn't entirely about myself. Thank goodness.
CWC's goal is to provide and facilitate encouragement, accountability, and community for Christian women. I hope that you will see our corner as a support and guide for you in your Christian walk as much as I do. I want you to feel comfortable inviting people you know to our community as well!
I realize that you're busy, so I've created a flexible support system that allows you to access it any time of the day or night. It works around YOUR busy schedule. There are no specific times we have to meet or places you need to be to use these supports. Don't worry if you're not technologically advanced. I'll provide step-by-step instructions all along the way.
CWC is created around two specific online technology tools to help you.
The first tool is the CWC website.
The website includes many resources to guide you: blog posts, prayer and Bible study support, and ways to tell others about Jesus. I recommend and review various products and services that help me in my Christian walk and also provide products that I've written and created just for you! The website is updated regularly, so make sure to bookmark it and come back often.
The second tool is the private CWC Facebook group.
The Facebook group is where the accountability and community magic happens. It's the practical side of Christian Women's Corner. The CWC Facebook group is a private place where we pray for each other, read through the Bible (a chapter a day together with weekends off), and create online relationships with other women we share a common bond with. That common bond is Jesus! You can join our private Facebook group here.
My Promises To You
In case you're wondering, I'm very responsive to email, website, and social media comments. I'm also very active on the prayer board and within the private Facebook group. I will promptly reply to your questions, requests, or comments and, I'll make sure you know I'm here, ready, and willing to help you.
I promise to:
• Pray, read the Bible, and tell others about Jesus right along with you. I believe my job is to set an example in my daily life. It's hard to ask others to do something that I'm not doing myself.
• Pray for all of you (the CWC community members) regularly. The prayer of the righteous is powerful and effective.  (James 5:16)
• Communicate regularly with our CWC community of women. I know you want to hear from me, and I have no issues with initiating contact.
• Create trust within our community by maintaining a healthy level of confidentiality.
• Be an encourager. Accountability is much more effective when someone is cheering you on.
• Practice humility and honesty. Transparency from me will encourage our community to open up and share our victories and struggles on our walk with God.
• Most importantly, I will depend on God. Seek Him first and listen to His direction for our community.
Why Our Community Thrives
Christian Women's Corner helps encourage women to pray and be in the Word of God daily. Another benefit is the encouragement that women can receive from other women in the body of Christ as we walk through life together.
God made us desire relationships, first with Him and then with others. The CWC community can help develop both of those kinds of relationships.
Here are a few things we do to help our community thrive:
1.       GET TO KNOW EACH OTHER.
Go deeper. We initiate conversations about hobbies, goals, families, passions, and personal testimonies. These things help us connect in the community and will encourage each other. Creating intimacy starts with me but spreads out to include the entire community.
2.       PRAY FOR EACH OTHER.
When you pray for others, your heart connects at a deeper level. We make sure to share prayer requests daily and encourage follow-up with other community members' requests.
3.       ENCOURAGE COMMITMENT.
Accountability is critical, and I will lead by example.
4.       CREATE A POSITIVE, WELCOMING ATMOSPHERE.
There is enough negativity in our world. I'll do my part to make our community a safe and encouraging place to be. I'll be especially attentive to those who may not feel like they "fit in" because they usually need it the most.
5.       SHARE GOALS AND ENCOURAGE EACH OTHER IN OUR SPIRITUAL WALK.
I'll always remember why I created this community and why you joined.
6.       KEEP CHRIST THE CENTER OF All WE DO.
We make goals and keep each other accountable. We stick to topics that unite and don't divide.
7.       HAVE FUN! LAUGHTER IS THE BEST MEDICINE.
We make sure to provide moments in our community that are fun. We share funny stories, recipes, or birthdays. The activity doesn't matter as much as the fellowship.
8.       STICK TO THE TRUTH OF THE WORD OF GOD.
I am on guard against personal agendas. Instead, we let God be the focus.