Share Your Blessings To Bless Others
(Memorize Luke 6:38)
Have you ever stopped to really appreciate God's unconditional love towards you?
God is a bestower of good gifts, and each day He sends forth His rich blessings on mankind. While some of us are provided with the basic necessities of life, there are others around us who are less fortunate and could benefit from our tremendous blessings. As a result, God is expecting you to share your blessings to bless others.
There is great happiness to be derived from giving, and furthermore, when you share your blessings, you will reap physical and spiritual rewards. Can you believe that?
Luke 6:38 outlines this principle as it states that you should:
"Give, and it will be given to you. A good measure, pressed down, shaken together and running over, will be poured into your lap. For with the measure you use, it will be measured to you." (Luke 6:38) NIV
We have a wallpaper background image available that you can download and use on your laptop or desktop computer. It will help you memorize Luke 6:38 by keeping it top of mind whenever you login to your computer. Click >>here<< for the wallpaper background image.
Why not share your blessings with someone today? I know sometimes, you may tend to hold on to what you have with the belief that you will never have enough to sustain you, but God has promised to reward you with His blessings. You can always trust His promises.
While your primary motivation to share your blessings should not be based on you expecting a reward, God promises that when you give, your reward will "run over." This means that you will be blessed in abundance.
How often should you share your blessings? Give willingly and as often as possible, depending on your ability and the opportunities that confront you. Not only will you be rewarded with what you give, but you will be blessed in "great measure" so that you can continue to give to others.
As a child of God, your generosity is a reflection of the character of Christ. When you share your blessings, others will come to know God as the kind and loving Father that He is – A God who is rich in mercy and extends grace to His children. As a result, they can confidently place their hope and trust in Him, knowing that He is a constant provider, and He cares.
Do you think you can outdo God's giving? No, not at all. God is The Great Giver.
As the song "You Can't Beat God Giving," by Billy Preston, rightly states:
You can't beat God's giving, no matter how you try
And just as sure as you are living
And the Lord is in heaven on high
The more you give, the more He gives to you
But keep on giving because it's really true
That you can't beat God's giving, no matter how you try
God extends his goodness and His grace toward each of us in spite of our failures. Let us continue to share His love and His rich blessings with others as we actively participate in the plan of salvation.
How can you share your blessings with others? Using the journal below, memorize this verse as you consider some ways in which you can use your blessings to bless others.
As you reflect, ask God to help you to develop a lifestyle of service to others, as you seek to represent His character of goodness and grace.
Grace and peace,
Alicia
Free Download
I appreciate you taking the time out of your busy day to read what was on my heart. I'd like to thank you by offering a free PDF download when you fill out the form below.
Make sure to click the box beside 'Subscribe to the CWC Email Community' to receive our monthly newsletter and a few emails a month to keep you informed about our community, updates on the website, special sales promotions, and to send you cool free stuff!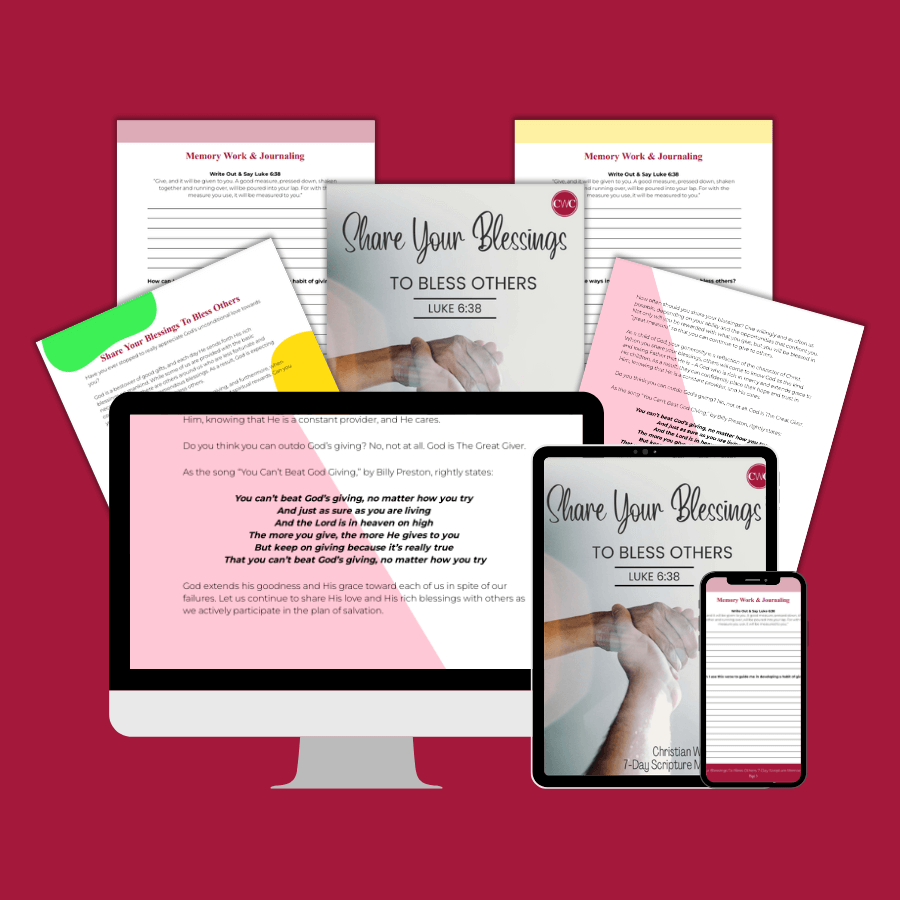 You'll receive a 7-day scripture memory journal that assists you in the process of memorizing Luke 6:38. It includes the above blog post, space to write out the Bible verse, a reminder to say the verse aloud to aid memorization, and guided questions.
You can read the PDF downloads on whatever electronic device you use and fill out the journal answers in your own journal or a notebook. 

Another way to enjoy the downloads is to print them out on your home printer or email them to your favorite printer like the UPS Store, Staples Business Depot, or Kinkos and use them in printed form.
Your information is 100% private & never shared.