How To Become A Christian
Have you ever wondered why you are here on earth?
Have you ever had a sense that you were made for more?
Have you ever been amazed by the beauty of this world? Or the wonder of love? While at the same time also being shocked and discouraged by the hatred and evil around us?
THERE'S A REASON YOU FEEL THIS WAY… YOU WERE DESIGNED FOR GOOD
God created the world, and that includes you—and He declared everything He made to be good! In fact, He says you're "very good" because you come from Him!
That longing you have inside yourself for the world to "be right" may seem like an echo—here one moment and gone the next—but don't be confused. That sense of longing comes from God.
Not only do you come from God, but you have purpose. The Bible says that your purpose is to be with God in a world of love and beauty and meaning.
We know that something is wrong—and it is us. It's you and me.
Without God, we choose to live for ourselves. You might think of it as walking away from God.
The Bible calls that SIN. Take a moment and ask yourself, "Do I do things I know are wrong?"
If we are honest with ourselves, we will admit we rebel…we sin.
When we sin, we break our relationship with God. And everything that was meant for our good gets broken.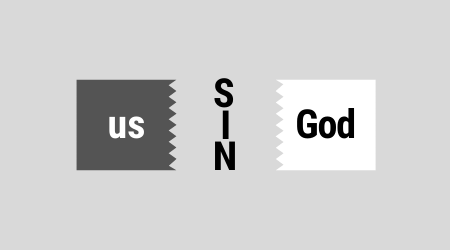 CAN WE FIX THIS PROBLEM?
Great question! We cannot. Many have tried. Many try to build a bridge to God.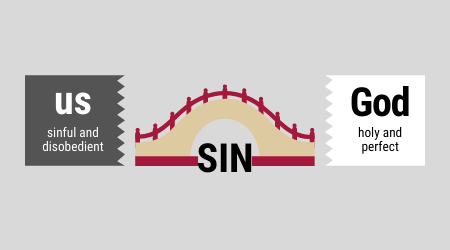 Have you ever tried? Tried to live perfectly? It's impossible, right?
The problem is BIGGER than you may realize. Sin separates us from God forever.

BUT GOD INTERVENED BECAUSE HE LOVES YOU!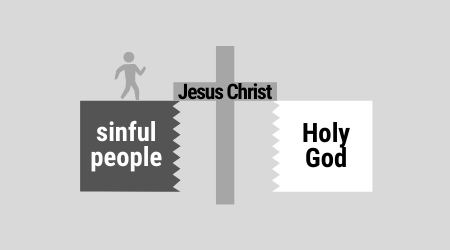 16"For God so loved the world, that he gave his one and only Son, that whoever believes in him should not perish, but have eternal life." (John 3:16)

What you can't do through your own efforts, God the Son, Jesus, did by coming to earth to die on the cross for you. He took the punishment for your sin. Jesus became the way between God the Father and you. Jesus Christ is the only way for us to reach the Father (John 14:6).

WHAT DOES ALL THAT MEAN?
It means that you can have a real, meaningful life—today and forever.
10"I came that they may have life, and may have it abundantly." (John 10:10)

It means that when you believe in Jesus, you are restored to the "very good" relationship you were created for…you become God's son or daughter.

12"But as many as received him, to them he gave the right to become God's children, to those who believe in his name." (John 1:12)

It means that you can live with passion and purpose because you walk in a loving relationship with the One who created you, serving Him and sharing the Good News of His love with others—reconciling the world to God.

HOW CAN I KNOW GOD?
There are three steps to take:
1. Admit that you need God and turn away from sin (see John 8:11).
2. Believe (have faith) that when Jesus died on the cross, He took the punishment for all your sin, and He rose to life again to conquer death (see John 1:29).
3. Receive (ask) Jesus Christ as your Lord and Savior.
A SIMPLE PRAYER
Here is a prayer to receive Jesus Christ as your Lord and Savior. It is a suggested prayer. The exact wording doesn't matter. What counts is the attitude of your heart:

"Lord Jesus, thank You for showing me how much I need You. Thank You for dying on the cross for me. I believe that You are who You say You are and that You rose from the dead to conquer sin and death. Please forgive all my failures and sins. Make me clean and help me start fresh with You. I now receive You into my life as my Lord and Savior. Help me to love and serve You with all my heart. Amen."

Jesus said:
37"He who comes to me I will in no way throw out." (John 6:37)

WHAT'S NEXT? IT DEPENDS

If you prayed the prayer, congratulations! Becoming a follower of Jesus is only the beginning of an exciting adventure. Your next step is to >>Click here<< to download and read the Gospel of John from the Bible. We've also included what to do next further down this page and have added links about finding resources for the journey ahead.
If you are not ready to respond to Jesus' call, consider reading about Jesus. When people would meet Jesus and ask him questions, his answer was, "Come and see."
So, come and see, you're invited to meet Jesus.
>>Click here<< to download and read the Gospel of John from the Bible.
Why the Gospel of John?
It is the eyewitness account of the life, death, and resurrection of Jesus of Nazareth that has stood the test of time and made a difference to billions of lives around the world. John wrote this account with a special theme in mind that he states near the end:
31"but these are written, that you may believe that Jesus is the Christ, the Son of God, and that believing you may have life in his name." (John 20:31)

If God has spoken to you and are ready to follow Jesus, visit www.ptl.org/response and let us know about your life-changing response. The link will send you to The Pocket Testament League website, and they will  send you information about free resources you can use to grow closer to God.
Who is The Pocket Testament League?

They are a fantastic organization that Christian Women's Corner has partnered with. We were looking for a practical way to show our community how to share Jesus with others and found The League. 
They are an interdenominational evangelical organization founded in 1893 when a teenage girl and her friends made a commitment to carry pocket-sized New Testaments to share with others. The League encourages followers of Jesus everywhere to Read, Carry and Share God's Word. Learn more about The Pocket Testament League by visiting www.ptl.org/about.
Jesus loves people, and people are curious about Jesus. Jesus' solution is simple. Follow me. For centuries, people have been doing just that, following Jesus.
Becoming a follower of Jesus is only the beginning of an exciting journey. Jesus called it being "born again" (see John 3:3). It means that you now have a personal relationship with God as your heavenly Father. You are not alone. God sent the Holy Spirit from heaven to be your Counselor, to guide you into all truth (see John 14:26; 15:26; and 16:12-15). He will help you live each day for God and accept the changes He wants to make in your life. You can depend on His power to enable you to grow as a follower of Jesus.
Being a follower of Jesus involves a whole new life. Start now:
READ a part of the Bible each day.
PRAY daily; talk to God as you would a close friend.
WORSHIP God by attending a church where the Bible is taught.
JOIN with other followers for support and encouragement.
SHARE your faith in Christ by offering people a pocket Gospel of John.
WANT TO LEARN MORE? There are two free courses available that you can take. One course is a 21-day challenge that goes in-depth about the Gospel of John. The other is a course that will give you answers to strengthen your new relationship with God called 'Life In His Name.' Daily pocket devotionals are also available. To join The Pocket Testament League as a Member (membership is free) or to start your free courses and devotionals, just visit their website at www.ptl.org/follow.
The information on this page was used from The Pocket Testament League's® pocket Gospel of John.
If  you have any questions or want to leave us a comment, please do so below in the comments section or contact us by clicking here to reach our Contact Us page.