His Daily Provisions
(Memorize Lamentations 3:22-23)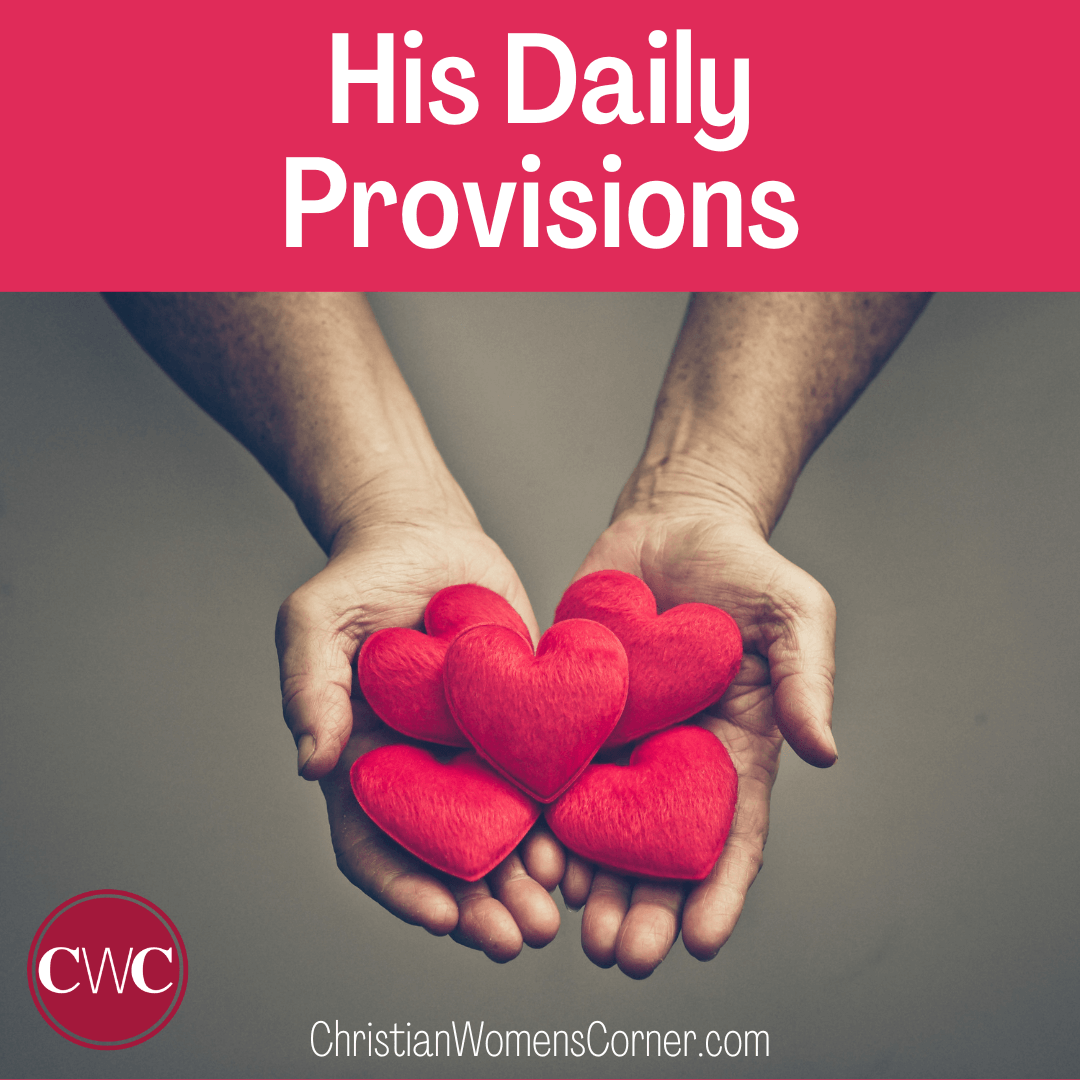 Did you know that you can remain hopeful each day as God has promised to extend His mercies towards you, not yearly, monthly, or weekly, but daily?
Yes, I know that in our human comprehension, it might be hard for us to imagine, but we serve a God who is merciful and kind. His daily provisions are unlimited, and you can always trust His divine promises. His infinite love never fails, and each day He extends His unfailing love and faithfulness toward us, even when we go against His will or refuse to walk in total obedience to Him. With the dawn of each day, God sends a fresh supply of His mercies.
Because of the LORD'S great love we are not consumed, for his compassions never fail. They are new every morning; great is your faithfulness. (Lamentations 3:22-23)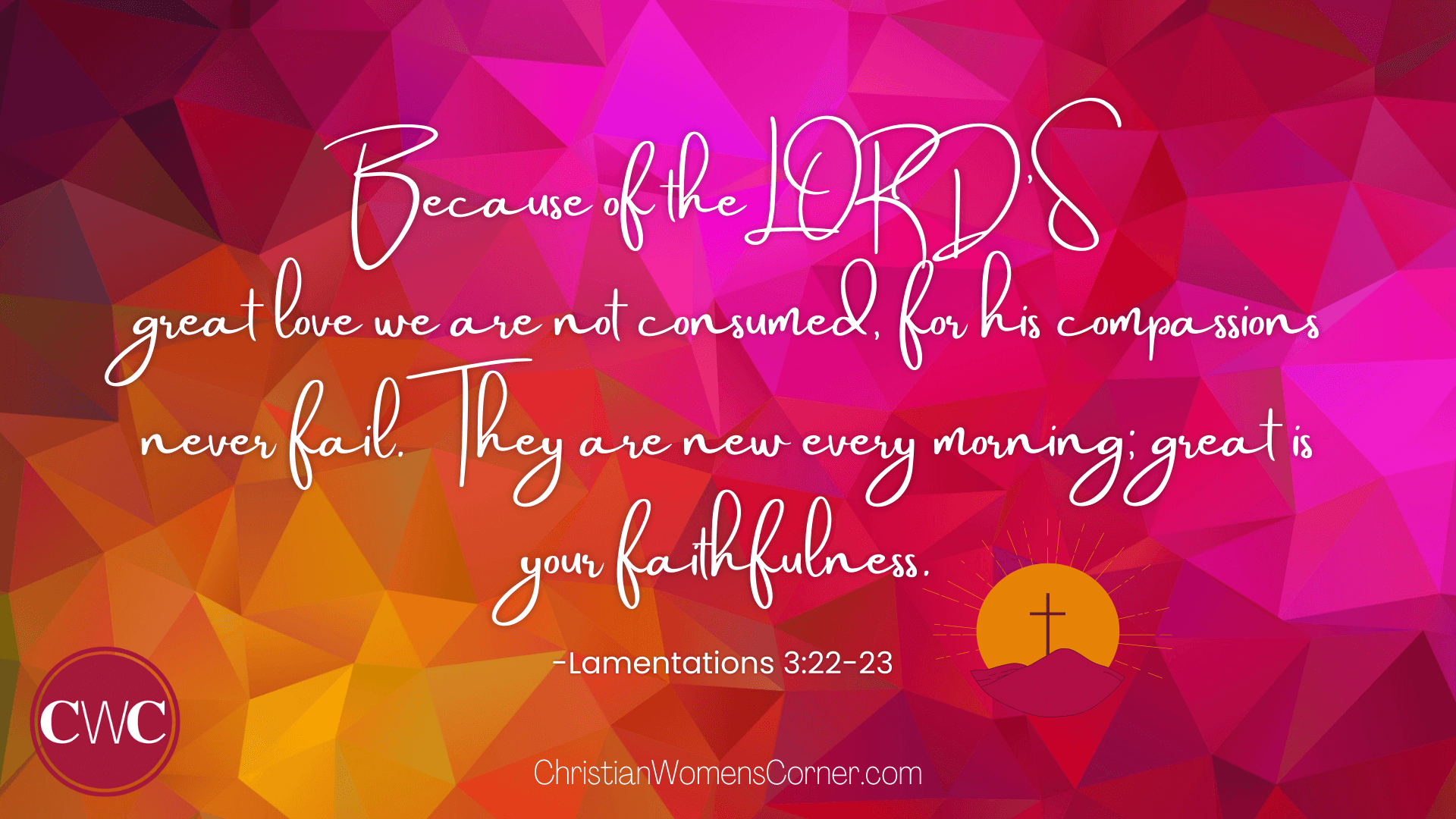 We have a wallpaper background image available that you can download and use on your laptop or desktop computer. It will help you memorize Lamentations 3:22-23 by keeping it top of mind whenever you login to your computer. Click >>here<< for the wallpaper background image.
God's mercies are constant each day, and His invigorating presence brings renewed joy and comfort in any situation you encounter. His faithfulness has no boundaries, and He can always be trusted. God's unconditional love daily refreshes, revitalizes, and empowers you to face each day with renewed vigor and confidence. He equips you with strength daily so you can overcome life's many temptations. You cannot sink too deep in sin, where God's mercy cannot save you – that's the magnitude of the daily provisions that He has for you.
16"For God so loved the world that he gave his one and only Son, that whoever believes in him shall not perish but have eternal life." (John 3:16)
The most powerful demonstration of God's mercy was in sending His one and only son to die to save humanity.
And guess what? This same mercy is still available to you today.
Even when you feel like you've wandered far away from God and are filled with guilt and shame, God, in His compassionate love, will always extend His forgiveness and love to save you. God will never condemn you when you err, as His grace is limitless. You can rely on His strength and daily provisions as he extends His unconditional love, and no good thing will He withhold from His children.
32He who did not spare his own Son, but gave him up for us all—how will he not also, along with him, graciously give us all things? (Romans 8:32)
That's right. God's love and mercy know no bounds, and He will do everything in His power to save you from sin and condemnation. I know some challenges sometimes seem insurmountable, but God will not allow the fires to consume you. Each new day, He shelters you under His arms of protection and care and shields you from the attacks of the evil one. You can always abide in God's presence as he continuously supplies His grace, mercy, and daily provisions from His reservoir of love, which can never run dry.
Grace and peace,
Alicia
Free Download
I appreciate you taking the time out of your busy day to read what was on my heart. I'd like to thank you by offering a free PDF download when you fill out the form below.
Make sure to click the box beside 'Subscribe to the CWC Email Community' to receive our monthly newsletter and a few emails a month to keep you informed about our community, updates on the website, special sales promotions, and to send you cool free stuff!
You'll receive a 7-day scripture memory journal that assists you in the process of memorizing Lamentations 3:22-23. It includes the above blog post, space to write out the Bible verse, a reminder to say the verse aloud to aid memorization, and guided questions.
You can read the PDF downloads on whatever electronic device you use and fill out the journal answers in your own journal or a notebook. 

Another way to enjoy the downloads is to print them out on your home printer or email them to your favorite printer like the UPS Store, Staples Business Depot, or Kinkos and use them in printed form.
Your information is 100% private & never shared.