Fishers of Men: How To Share Your Faith Through An Online Ministry
Ben was forty when he was sidelined by an auto accident. His back was broken, and even with surgery, the doctors hadn't been able to fully repair the damage. As a result, he lived with excruciating pain that left him unable to live his life the way he had once.
Now, he was practically bedridden and struggled to do basic tasks for himself. Ben's wife and children did their best to help him. His wife took on a second job to provide for their family. His teenage children drove him to doctor's appointments and sat with him on the days when he was in too much pain to move from his recliner.
His family was a comfort. But Ben struggled with what to do now that his life looked radically different. He'd always had a passion for writing, and one of his sons suggested he use this season to write.
Ben started writing devotions and short hymns to inspire others. He posted them online and quickly discovered that people were encouraged by his words. Ben had started a new ministry and shared his faith without realizing it.
What Is Online Ministry?

Ministry, at its core, is simply nurturing and serving others. There are many ways that ministry can happen inside a church. Some people minister within a church by leading Sunday school classes, watching the nursery, helping new visitors find seats, monitoring the parking lot, or any other number of tasks.
But just as ministry can happen inside a church. It can also occur outside of it. Some people minister this way by feeding the homeless, visiting those in prison, volunteering at retirement communities, or simply caring for their families in their own homes.
Of course, thanks to the rise of the internet, there's also a new frontier when it comes to ministering—the online ministry. This is the process of nurturing and serving others online through the internet.
Your Online Ministry May Look Different

It's important to understand that your online ministry may not look like someone else's. God gifts each member of the body with different abilities and talents. 
While your friend might be excellent at writing and creates amazing novels with powerful themes of redemption, your talents might be in graphic design. You may be able to design images that encourage and inspire someone just when they need it.
This is what Paul's referring to in Romans 12. He wrote…
4"For just as each of us has one body with many members, and these members do not all have the same function, 5so in Christ, we, though many, form one body, and each member belongs to all the others. 6We have different gifts, according to the grace given to each of us." (Romans 12:4-6)
This is important because it can be tempting to compare your online ministry to someone else's. If you do this and think your ministry is "better" or "bigger" than someone else's, you could easily fall into the trap of pride.
Solomon warned about this in Proverbs 16,
18"Pride goes before destruction, a haughty spirit before a fall." (Proverbs 16:18)

But just as dangerous as becoming prideful is becoming ashamed of your ministry. You might look at it and think it's far less important than your friend's or that what you're doing simply doesn't matter. Rather than looking at your ministry, stay focused on the Gospel and its power. 
Remember Paul's instructions in Romans 1,
16"For I am not ashamed of the gospel, because it is the power of God that brings salvation to everyone who believes: first to the Jew, then to the Gentile." (Romans 1:16)
Look for One Sheep

When it comes to online ministry, it's easy to get overwhelmed. All you have to do is log in to your favorite social media platform to realize that millions of people online are hungry and hurting. They need hope, and they need to know that someone cares.
This is where it's easy to believe the enemy's lies that you're just one person and you can't possibly make a difference. But it's essential to keep in mind that Jesus left the ninety-nine sheep to seek the one.
Every single sheep is valuable to Christ. Every person you reach by sharing your faith is precious in His sight. Every lost soul who comes to know the love of Jesus because of your ministry is cherished by the King.
Share Your Faith without Pushing People Away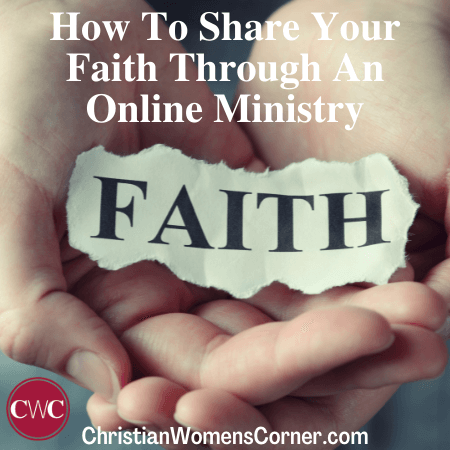 If you feel called to online ministry, it can be challenging. You may wonder how you can share your faith without pushing people away. The fact that you're thinking about this is a good sign.
Some Christians mistakenly believe that in order to minister, they must preach a "fire and brimstone" message that's heavy on condemnation and light on love, mercy, and grace. 
While this approach may work on a select few people, the truth is it's rarely effective long-term. It hurts and alienates those you reach, even if you don't realize it. 
Sadly, this was the case for Tracy. Her twenty-year-old daughter was an atheist who had gotten pregnant out of wedlock. Tracy's daughter posted about it on a social media site when she miscarried a few months into the pregnancy.
Tracy's mother, Georgia, who was a Christian, quickly posted a comment. She accused her granddaughter of inviting God's judgment into her life and poured out hatred and condemnation in a long, scathing message.
Tracy was horrified by her mother's reaction. She shared the situation with a friend, asking, "How could someone who claims to believe that God loves everyone turn around and treat someone else so cruelly?"
While Christians like Georgia are rare, they do exist. They hurt the very ones they claim they want to help, and they do it while using the name of Jesus. Yet, in the Gospel, Christ's first reaction to the hurting was the same each time—compassion.
Matthew 9:36 is a wonderful example of how to approach online ministry. Remember this verse when you see the dozens of posts on your social media feed or in the comments section of your favorite blog…
36"When he saw the crowds, he had compassion on them, because they were harassed and helpless, like sheep without a shepherd." (Matthew 9:36)

Uplift Others

Keep the content you post online focused on encouraging and inspiring others. You should always be authentic when you share your faith online but at the same time, carefully consider the impact of what you're posting. 
You may want to minister to the hurting, but then you're posting snarky memes about your kids or passive-aggressive comments about your husband's lack of help around the house. While it might be amusing to some, this behavior ultimately discredits the message of love and grace you're trying to send.
This is not about putting on a "mask" or acting like your life is perfect. There's a way to be honest and authentic while still honoring the message of hope that Christ has called all of us to share.
A good idea is to review Philippians 4:8 before posting any content online. If you're not familiar with it, this verse reads…
8"Finally, brothers and sisters, whatever is true, whatever is noble, whatever is right, whatever is pure, whatever is lovely, whatever is admirable--if anything is excellent or praiseworthy--think about such things." ( Philippians 4:8)

Pause before you post and ask yourself these questions…
Is this true?
Is this noble?
Is this right?
Is this pure?
Is this lovely?
Is this admirable?
Is this excellent and praiseworthy?
If the answer to these questions is "yes" without hesitation, post away. But if most of the answers are "no," then you may need to prayerfully consider if you should publish it for the world to see.
Embrace Your Journey

One of the best ways to minister to others and share your faith online is simply to share where you are on your journey. This is often far more effective than telling others how to live their lives or shaming them for their choices.
Keep in mind you don't have to wait until you're perfect to share your journey. Ben humbly posted about a moment when he lost his temper and yelled at one of his sons. His son recognized his father was in pain and poured grace over him rather than retaliate. 
Ben talked about how the incident challenged him as a father and a man. Several people commented on the post and encouraged Ben. One father even reached out to ask Ben about how his faith impacted his relationships with his sons and what he could do to model humility to his kids.
Ultimately, you have to trust that when you share your journey, God is using it. God can use any moment of your life to show the world how much He loves broken people in the middle of their messes.
Be the Same Person

Remember that it's essential that you're the same person online that you are offline. If you're normally funny and easygoing offline, don't change into someone stuffy and humorless when you log in to your social media accounts or website. 
Be that same person all the time and understand that God gave you the personality you have for a reason. There are people that will feel pulled toward you because of the unique way God made you.
Consider the words of Jesus...
"14You are the light of the world. A town built on a hill cannot be hidden. 15Neither do people light a lamp and put it under a bowl. Instead they put it on its stand, and it gives light to everyone in the house. 16In the same way, let your light shine before others, that they may see your good deeds and glorify your Father in heaven." (Matthew 5:14-16)
You are meant to shine when you share your faith online. The best way to shine is by being who you are. This doesn't mean you're free from flaws or sin. Of course, you're in the process of being sanctified, and that means there's something powerful about saying, "I'm still a work-in-progress."
It gives those around you the freedom to acknowledge the same thing. Suddenly, they don't feel the need to be perfect either because you've boldly made the first move and taken off the mask.
Partner with Other Online Ministers

Some online ministers make the mistake of thinking that other online ministries are their competitors. But that's a view that will leave you feeling lonely and isolated. It'll keep you from getting the support and encouragement you need to continue sharing your faith.
Jesus spoke to the disciples about this issue in Luke 10.
2"He told them, "The harvest is plentiful, but the workers are few. Ask the Lord of the harvest, therefore, to send out workers into his harvest field." (Luke 10:2)
The more ministers working to shine God's light and love by sharing their faith online, the more people will be reached for the Kingdom of God, and that's something worth celebrating!
With that in mind, you should work to build a community of online ministers that you check in with and love regularly. You can do this through a mastermind group or become accountability partners.
Be willing to help these co-workers in the field. You can offer to exchange a guest post when someone's running short on content or give them a day off by doing a social media "takeover" to encourage their community.
Just as you should be willing to support your co-workers, be gracious enough to accept help when you need it. Before Ben had surgery, he reached out to a good friend in online ministry. This friend agreed to run Ben's Facebook page and group until he felt up to taking them over again.
Ben could have been too prideful to ask for help. But he cared more about his community having the support and love of a leader during his recovery process than he did his own ego. 
Let the Spirit Lead You

Starting an online ministry and working to share your faith is both exciting and scary. It can be an incredible adventure that leads you to deepen your relationship with God and search for Him more than ever before.
During this time, it can be helpful to remember the words of God to Joshua when he was about to set off on a new quest to the Promised Land. 
9"Have I not commanded you? Be strong and courageous. Do not be afraid; do not be discouraged, for the LORD your God will be with you wherever you go." (Joshua 1:9)

Although you may be venturing into a new place, you're not traveling alone. God is with you, and if you seek Him, He'll show you precisely what steps to take to share your faith online!
Grace and peace,
Alicia
Free Downloads
Whew! You made it to the bottom of this blog post. I appreciate you taking the time out of your busy day to read what was on my heart. I'd like to thank you by offering two free PDF downloads when you fill out the form below.
Make sure to click the box beside 'Subscribe to the CWC Email Community' to receive our monthly newsletter and a few emails a month to keep you informed about our community, updates on the website, and to send you cool free stuff!
The first is a 7-day devotional journal that goes deeper into how to share your faith through an online ministry and includes Bible verses, reflections, prayers, and guided questions.
The second is a checklist that contains tips and advice on how to share your faith authentically.
You can read the PDF downloads on whatever electronic device you use and fill out the journal answers in your own journal or a notebook. 
Another way to enjoy the downloads is to print them out on your home printer or email them to your favorite printer like the UPS Store, Staples Business Depot, or Kinkos and use them in printed form.
Your information is 100% private & never shared.