Coming Back To God After Drifting Away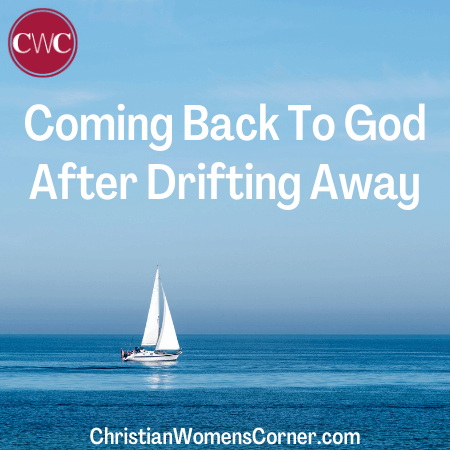 The day came that you thought would never come as a new believer. You thought the love in your heart would never leave. You woke up and realized that you were failing in your faith. You just don't feel the way you first did when you came to Christ. 
You haven't picked up a Bible in weeks. You rarely pray, and the prayers feel empty and shallow when you do. You are not even sure God hears you anymore. Your relationship with God is different, off. You have started to feel anxious all the time and overwhelmed with spiritual things. 
Coming to Christ out of darkness is the most important decision a believer can make in their life. No other decision changes your life so drastically and completely. 
The place of brokenness that most people experience causes them to leave everything and run to Christ. The new relationship with Christ you had was so wonderful and fulfilling. As a baby Christian, you never thought you'd leave this relationship. But you have. 
You're not even sure what happened. You just drifted away. 
As a baby Christian, you are so excited and full of love for the Lord that you read the Bible every day, pray every day, and tell everyone about your relationship with Christ. 
Everything looked new and wonderful. Hope was alive in your heart. You never felt so transformed from a life of misery to a life of wholeness in Christ. 
But somehow, you are now distant. 
Jesus doesn't seem as close as He used to be. The Bible is not as exciting as it was at the beginning of your relationship. You find yourself sliding back towards the old habit patterns that you left. 
What happened? What changed in your life? Why is the love you once felt now feel so far away? 
You have drifted away from God. It's a spiritual infection of sorts that creeps in on the believer if they are not careful. Drifting away happens when you take your eyes off Him. It creeps in when you are not totally focused on Him and His love for you. When the world comes into focus, and that focus begins to fill your heart full of the world's cares, drifting from God is on the horizon. 
But there is a way back. Coming back to God is possible and drifting away is not your final destination. The Christ your heart loved is still there. His promises for you are never removed. There are clear paths to restoring that first love. Drifting is a season you can recover from, and you can always get back on course. 
Drifting away from God happens so slightly that we hardly notice it until we are entirely off course, like a ship drifting on the ocean. Every little bit of drift pulls it further and further off course. 
Let's see how you can start your journey of coming back to God and get you reconnected.
Reconnect with His love

Guilt and shame are like handcuffs to the old life you left behind. They are familiar friends from a past life of sin and not a part of your new life in Christ. They try to tell you that coming back to God is impossible. But those are lies of the past speaking. 
God watched you come to Him, and He watched you drift away. But He knew you would. You only need to remember that you belong to Him. Nothing of His ever escapes His hand. He is calling out to you every day while you are away. Nothing in this life will stop Him from pursuing you. You are His beloved, and His love for you is everlasting. He wants you to know this from His word. 
17"I pray that you, being rooted and established in love... 18grasp how wide and long and high and deep is the love of Christ." (Ephesians 3:17-18)

God loves you, not because of who you are or what you've done. He loves you totally and completely because of who He is. You drifted because you took your eyes off Him. You looked away from Him and to the world, yourself, your insecurities, failures, and shortcomings. 
Trust His love for you again without the guilt and shame. He died for all of that. There is nothing to feel shame or guilt over. He is calling your name. Coming back to God is possible. You are established in love with Him. 
Reconnect with Prayer

Prayer is a perfect way to guide you when you're coming back to God. I don't mean the fancy long, drawn-out religious prayer. No, just a simple conversation of the heart to Him about your relationship with Him. 
God knows you better than you know yourself. He knows what is on your heart. Just release everything to Him in prayer. Repent for drifting, going your way, and leaving His safe and compassionate touch. Say it to Him in prayer any way you need to. 
God will always hear your prayers, and He will answer them when we come with faith and honest intention. You will know in your heart that He heard you. You will sense that peace and calm that only He can bring when you begin coming back to God.
Prayer is a gentle, non-threatening conversation that you have with God. Pour your heart out to Him. 
Jeremiah 29 says, 
12"Then you will call on me and come and pray to me, and I will listen to you. 13You will seek me and find me when you seek me with all your heart." (Jeremiah 29:12-13)

God hears you no matter what state you are in. Seek Him with all your heart to get back into His presence. He knows where you are spiritually, and He will hear, and He will answer.

Reconnect with the Word

Coming back to God is possible through reading His written word. The word of God is your anchor and will keep you from drifting.
The Bible shows us who God is. You will learn His character through the Word. You will see the revelation of Himself to His people. 
Throughout the Bible, you see God's holiness, faithfulness, grace, power, and love for us. 
You will always see Him be the same unchanging God. That means that He will never change His mind about you or His love for you. That is set. No amount of drifting away will change that. 
2 Timothy 3 tells us that all scripture is...
16"useful for teaching, for reproof, for correction and for training in righteousness, 17so that the servant of God may be thoroughly equipped for every good work."  (2 Timothy 3:16–17)
Reconnecting with a regular habit of reading the word of God is so important because it helps you grow in maturity as a Christian. It will equip you to fulfill the call on your life to bring Him glory and honor.
Reading the Bible is also a spiritual discipline. If you struggle and lack the desire to connect to it, ask God to give you a passion for His word again. He will. He wants you to enjoy His book. He will help you find the time to get back to reading the Bible daily. 
When you are drifting from the Word, you are drifting from the instruction manual for life. This is the only book that is active and alive when you read it. It gives life to those who are spiritually dead. It awakens the soul to new life in Christ. It heals the broken emotions of the heart. No other book on earth has this quality or power. 
The Bible is a book that speaks to every generation. It never changes its meaning with time. The Word of God judges all men righteously and causes us to be accountable to the everlasting God that will never fail us. 
Jesus said in Matthew 24,
35"Heaven and earth will pass away, but My words will by no means pass away." (Matthew 24:35)

The Word of God is your key to absolute truth. Come back to it again with fresh eyes. See what you didn't see before through His eyes.

Reconnect with Church

The Body of Christ is the church, and it is unique. There is no other group of people on earth like His body. Jesus is coming back for His bride, the Body. He wants you to be a part of that. 
Let me share a great scripture with you. 
12"Just as a body, though one, has many parts, but all its many parts form one body, so it is with Christ. 13For we were all baptized by one Spirit so as to form one body—whether Jews or Gentiles, slave or free—and we were all given the one Spirit to drink. 14Even so the body is not made up of one part but of many. 15Now if the foot should say, "Because I am not a hand, I do not belong to the body," it would not for that reason stop being part of the body. 16And if the ear should say, "Because I am not an eye, I do not belong to the body," it would not for that reason stop being part of the body. 17If the whole body were an eye, where would the sense of hearing be? If the whole body were an ear, where would the sense of smell be? 18But in fact God has placed the parts in the body, every one of them, just as he wanted them to be." (1 Corinthians 12:12-18)

This verse is powerful because it tells us that all of us belong to one body. We all belong together and need each other. The physical body is made up of many parts, and if one part hurts, the entire body hurts. 
You are that special to God and the Body of Christ. You are needed there, and we all suffer when you are not there. We feel the loss of your presence, love, and gifts. You are needed in whatever role or giftings you have. You are needed in His Body. 
He placed you in the Body for a reason. Coming back to God and his Body, the church, will be the most important decision you ever make. If you are not there, the Body is lacking. 
Reconnect With Goals

Remember this, dear friend; you are never too out of reach for God. You can never be too far gone. Drifting away is temporary when you have a God that will chase you down and love you back into His arms of protection. 
Here are some things you can do and goals you can set to keep your connection with God strong and grow in your faith. 
Accountability partner

Find a good accountability partner or someone with whom you can share your life struggles. This needs to be a person with a listening ear and a heart towards you. When your old life calls, you can reach out to this person with truth and honesty, and they can point out things that you may not necessarily see.

Church attendance

Try to get into the habit of having a regular routine at church. Find a great prayer service that meets mid-week that you can attend. Get involved in church on Sunday. Make friends and find where you fit in the Body.

Bible study

A weekly bible study does wonders to help you grow as a believer and will help you in your journey of coming back to God. There may be several different types of Bible studies in your church. Find one that works for you and attend. Bring a paper Bible and take notes. You will learn more that way.

Talk with A pastor

Set up a meeting with a pastor or other spiritual leader to talk with them about your struggles. You will find that once upon a time; they had struggles too. They will help you see better how to navigate those times of drifting that may come again and how to overcome them.

Devotional book

A devotional book is a great way to set a daily habit of reading the word of God with inspiring stories of hope, love, and encouragement in your faith.

Quiet time

Quiet time with God and unplugging from the world does wonders for your spirit and causes drifting to stop. There is nothing better than God speaking to you in times of quiet and stillness.

Prayer walks

Prayer walks with God help you when you're coming back to God and reconnect you with nature. Take a walk and see the wonder He created. It clears your head and heart as you walk and just talk to Him.

Give up

Give up the thing or things that caused you to drift away in the first place. Make a point to just leave them at the feet of Jesus. Give up any and all sin. Let go of all distractions.

The world

Put things of the world in their proper place. There is a lot that can distract you, so make sure you know what those things are: work, self, lust, entertainment, success, etc. 

Determination

Be determined to obey the word of God at all costs. No matter what you face, obey the instructions of the Lord. 
Finally, every effort you make on your part when coming back to God will diminish the drift in your soul. God will not leave you alone. You will not be defeated. He will not invest in you and then leave you. 
Stop drifting away. Restore your faith and begin coming back to God today.
Grace and peace,
Alicia