Be Still And Know
(Memorize Psalms 46:10)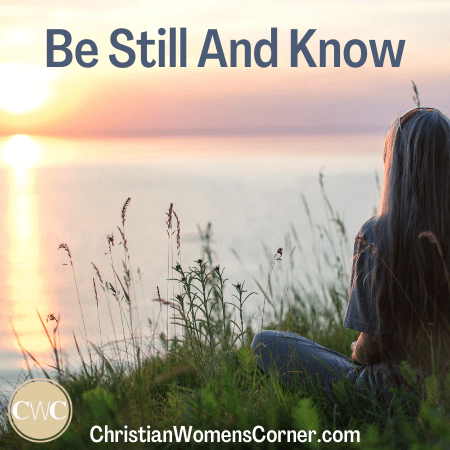 Have you ever thought about being still, really still, and what you can learn at that moment? Most haven't because we are people used to movement and activity. We don't even connect the two things because stillness to most means doing nothing. But that is so far from the true meaning of the word. 
Just saying the word "still" makes you feel calm and peaceful. There is a verse in the Bible that is a beautiful promise of knowing God when stillness comes. He says…
"Be still, and know that I am God; I will be exalted among the nations, I will be exalted in the earth." Psalm 46:10 (NIV)

We have a wallpaper background image available that you can download and use on your laptop or desktop computer. It will help you memorize Psalm 46:10 by keeping it top of mind whenever you login to your computer. Click >>here<< for the wallpaper background image.
The word stillness invokes sensing of a gentle breeze brushing against your face or the act of not moving. But is this what the word really means in this verse? I want to show you that this word is more profound than you know.
Stillness is something we all need, but we find it hard to achieve because life is full of movement. Still is a verb in this verse, and we know verbs mean action, doing something, which means movement.
The word "still" is the Hebrew word raphah. It means to sink down, relax, to let go, let drop, lose your grip, slackening your grip. So, this word means you are to do something. Do what? You are to let go of your situations and circumstances, loosen your grip on them, relax, and let your guard down. More importantly, it also means letting go of the outcomes too!
Being still is not passive. Being still is where you know God personally. The Bible says this is the way to know Him. It means you come to Him with all your stuff, and you set it at His feet. You are to let go of your grip on your marriage, kids, career, finances, etc. You are to relax your grip on your life issues. Let go mentally of putting your mind on things and the outcomes of those situations.
In this verse, God is saying, if you want to know Him as God, let go (or be still) of all you know. Then, in that stillness, you will "know" Him as God, as you have never known before. Being still teaches you to surrender. It also teaches you that God can be known. To know Him as your God, you must let go of your life. Trust the outcome He has for you and live in that. 
As you surrender yourself and all your problems to Him, you get to know the God that can handle all of that. That will increase your trust in Him as you walk in this discipline.
Commit Psalms 46:10 to memory using the scripture memory journal below. Practice writing and speaking this verse out loud until you have the words secured in your mind and heart that God is the God of your still place, and knowing Him can be found in that stillness. Answer the guided questions provided to help you reflect on His promise to you.
To be still and know God is such a blessing.
Grace and peace,
Alicia
Free Download
I appreciate you taking the time out of your busy day to read what was on my heart. I'd like to thank you by offering a free PDF download when you fill out the form below.
Make sure to click the box beside 'Subscribe to the CWC Email Community' to receive our monthly newsletter and a few emails a month to keep you informed about our community, updates on the website, special sales promotions, and to send you cool free stuff!
You'll receive a 7-day scripture memory journal that assists you in the process of memorizing Psalms 46:10. It includes the above blog post, space to write out the Bible verse, a reminder to say the verse aloud to aid memorization, and guided questions.
You can read the PDF downloads on whatever electronic device you use and fill out the journal answers in your own journal or a notebook. 

Another way to enjoy the downloads is to print them out on your home printer or email them to your favorite printer like the UPS Store, Staples Business Depot, or Kinkos and use them in printed form.
Your information is 100% private & never shared.