Honoring God with a Business Partnership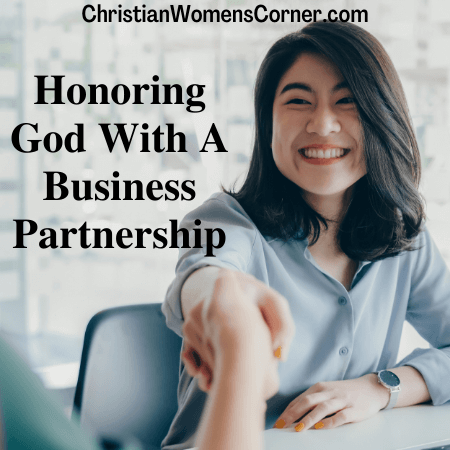 Emma loved creating beautiful websites. She always had a roster filled with clients who raved about her work. But as time went on, Emma noticed more of her clients were asking her to bundle copywriting services into their websites.
Since Emma didn't enjoy writing, she reached out to her friend and fellow Christian entrepreneur, Daisy. She asked her if she would be willing to partner with her on a small project for a new client.
Daisy agreed, and the two women found they worked so well together that they started their own boutique website service. Emma would supply the website while Daisy handled the content. The new venture was wildly successful, and the entrepreneurs quickly found themselves booked out for the following year.
A business partnership can be beautiful when both partners share the same faith and values. If you like the idea of partnering with another Christian entrepreneur, here's what you should know…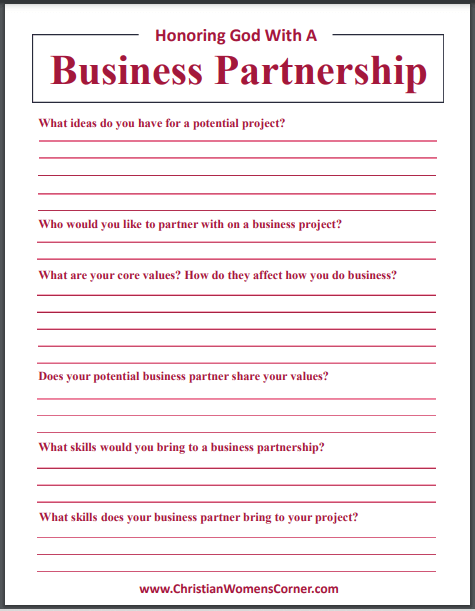 We have a printable worksheet available to help you start a business partnership. It includes guided questions that will trigger thoughts and ideas to help you create a well thought out plan. Click >>here<< for the worksheet.
Understanding the Different Levels of Partnership

When it comes to establishing a business partnership, you don't want to jump in feet first. No matter how good the opportunity looks or how popular your potential business partner is, it's important that you protect yourself and your business. This means taking things slow and making smart decisions.

Start with Prayer

Before you do anything, prayerfully consider the matter. The Holy Spirit may encourage you to proceed or to stop. Sometimes, the Spirit simply says, "Wait," and slowly reveals the answer to you.
It's important to remember that it is not God's plan for believers and unbelievers to be in partnership together. Paul discusses this in 2 Corinthians.
14"Do not be yoked together with unbelievers. For what do righteousness and wickedness have in common? Or what fellowship can light have with darkness?" (2 Corinthians 6:14)
The meaning of this verse may be lost to modern readers. But to Paul's audience, the illustration made perfect sense. In Biblical times, two oxen were joined together to pull a heavy load. If one of these animals were weaker than the other, they wouldn't be able to accomplish the task. 
It's a similar concept for Christians today. If you partner with someone who doesn't share your faith, the burden will be much greater, and you're less likely to achieve your goal.
Do Your Research

The next thing you should do if you're considering partnering with another entrepreneur is research your potential partner. You'll want to look at their business history and see what projects they've been involved in previously. 
If you find elements in their history that you don't like, don't ignore the warning signs. You don't want to partner with someone that has bad business practices because then you'll be associated with them in the future. This could make it hard for you to grow your business later on and ruin your professional reputation.
Shared Values = Happier Partners

If you've researched your potential business partner and like the way they do business, then it's time to consider who they are as a person. Not all personality types mesh well with each other, and in the excitement of a partnership, it can be easy to overlook personality conflicts. 
Ideally, you want to partner with someone with similar business philosophies but different gifts than you. This will allow you to connect over shared values while still showcasing both partners' talents.
Look Before You Leap

Before you take on a business partner, you should know that there are a variety of commitment levels that can be involved. You might partner on a project, single product, or brand. But keep in mind that the greater the commitment, the greater the risk. That's why it's usually best to try something short-term first.
If you and your partner agree to a short-term arrangement, this provides a natural conclusion to your partnership. This is helpful if your partner doesn't hold up their end of the deal or if you decide the project isn't right for you anymore. 
But if you start with a long-term arrangement, it can be harder to make a graceful exit, and you could find yourself having to deal with litigation concerns.
Set Goals that are in Sync 

When you decide to partner with another entrepreneur, make sure you both have clear goals. You and your partner need to know the goal of your joint venture because goals help you determine if your project is succeeding or failing. They're also an excellent way to see areas where you can improve your business.
Business partnerships can be fun and financially rewarding. But remember to be smart during the early stages of your partnership and take some time to get to know your partner first.
Test the Waters with Short Term Projects

When it comes to partnering with another entrepreneur, it's always best to start with a short-term project. Short-term projects are good because they let you get to know your partner's business style and help you decide if you want to continue working with this partner long-term.

Introduce Your Communities

One easy way to start a partnership is to introduce your community to your partner by promoting a product your partner has created. Use affiliate links and make sure the product is a good match for your community.
Then have your partner do the same thing for you. Then you both can evaluate how your communities are responding to each other. 
If you get emails thanking you for sharing this product or your community seems enthusiastic about your potential partner, you probably have a good match. 
Start with a Tiny Project

After watching your community's positive response, you're now ready to partner together on a small project. What you want to do is create something simple together. You might want to opt for a webinar or workshop. 
You'll want to divide up the responsibilities so you know which partner is responsible for various tasks. It would help if you also decided what to do with your webinar or workshop once it's finished. 
Will you and your partner sell it? Will one of you offer it as an opt-in bonus? Will you offer it to your current subscribers as an exclusive gift only they have access to? 
Think Long Term

Once you've successfully created a short-term project together, you'll want to start thinking long-term. 
You can offer a course, membership program, or podcast together. You'll want to focus on ensuring that your long-term project is valuable to both of your communities. You'll also want to be clear on how you'll split the profits.
Don't stick your head in the sand if your partner stops contributing to your project. If your partner flakes on something small, they're likely to flake on something more significant. 
It can be helpful to talk to your partner to see what's going on. Perhaps they're in the middle of a life-changing situation and need to step back for a few weeks. Maybe they have too many projects on their plate and need to dissolve the partnership.
Handle Small Issues Before They Become Big

Honest communication is essential to every partnership. While you may start off with the best of intentions, it's not always going to be smooth sailing with your partner. You will run into minor problems from time to time.
Don't overlook these minor issues because they can turn into bigger ones that threaten the health of your partnership. 
When you experience problems, talk openly about them and brainstorm for solutions. If both partners are committed, these small situations can help your partnership grow.
Working with a partner is a great way to build your business and earn even more. A partnership allows you to split the workload and can even lead to developing a good friendship.
What Skills Do You Bring to the Party?

You know who you'd like to partner with, and maybe you even have some ideas on what type of project you think would be an excellent fit for both of you. But what should you do first? How do you start your partnership and get the ball rolling?

What Skills Do You Have Already?

The first thing you need to ask yourself when you're considering a partnership is what skills you already have. You need to be honest here about your abilities. If you consistently receive compliments about your copywriting and have several enthusiastic clients, then it's safe to say that one of your skills is copywriting. 
On the other hand, if you're not gifted at creating graphics, you have to be willing to admit that. You can't pretend that you'll be able to handle the graphics side of your project. Just as it's essential to know your strengths, it's also essential to know your weaknesses. 
What Skills Does Your Partner Bring?

The next thing you need to consider is what skills your partner already has. Can your partner design stunning websites or put together videos everyone raves about? You need to know what skills your partner will be bringing to decide if this project is suitable for both of you.
Keep in mind that you have to be honest about your partner's weaknesses, too. If your partner hates technology, then asking your partner to set up your membership site probably isn't a good idea. Ideally, you want your partner working on the tasks where they shine (just like you should be!).
How Well Do Our Skills Mesh?

Are you and your partner too much alike? If you're both introverted copywriters who hate marketing, you can probably put together a great project as far as the content goes. But bringing attention to that project through marketing will be tough for both of you.
When you're partnering with someone, be careful not to choose someone with your exact same skill set. This can be disastrous for your projects. Instead, look for a partner with skills that are different from yours. 
What Skills Are Missing?

There can still be some gaps in your skill sets, even with a partner. Again, it's important, to be honest about these gaps and figure out what they are before you start work on a project. Otherwise, you could both spend weeks learning new skills.
When you and your partner lack a skill, the best option is to outsource. There are a variety of websites online where you can find freelancers at affordable rates. Don't be afraid to pay someone else to help you make your project the best that it can be.
Is It A Clear Go?

Look back over the questions above and spend some time thinking about them. Have you spotted a potential problem? Does your partner have the skills that will compliment yours? 
If not, don't be afraid to pass on a project. It's better to be known for doing ten projects well than to be known for doing 100 projects poorly.
Remember that just because you and a partner don't match right now doesn't mean you can't revisit the idea. In fact, you should set a reminder to re-think your partnership in the next six to twelve months. You may find that you and your partner are well-matched later on.
Partnerships can be a great way to further serve your community.  They can also provide you with the perfect project to let you and your partner's skills shine.
Splitting Responsibilities & Creating Emergency Plans

If you want a successful long-term partnership, you must divide up the responsibilities. You want to know who handles which tasks and when those tasks should be completed. 
For example, suppose you write the content for a monthly membership group and your partner designs the graphics. In that case, you still need to know who handles website maintenance, customer support, social media accounts, and so much more. 
It's easy to let things slip through the cracks when you don't have clear responsibilities on both sides. Unfortunately, this can end up damaging both your project and your partnership. 
Make a List

To ensure every task is handled, you and your partner need to have a business meeting and make a list of tasks related to your project. Tasks that are easy to forget are bookkeeping, email marketing, backups, blogging, and proofreading content.

Set Deadlines

You and your partner need to set up deadlines for every task each month. This ensures that the work gets done and can prevent further problems. 
Keep in mind that some tasks may be dependent on the completion of another task. Maybe your partner edits and uploads content you've written. It would help if you had a deadline in place so that your partner doesn't have to work until the wee hours of the morning to edit and upload your writing. 
Give Early Notice

One thing that partners need to do is agree to early notice of potential problems. As soon as you know about something that could impact your project, you tell your partner. 
For example, if you're in a minor car wreck and won't be able to make a deadline, text your partner and let them know. If you let the website hosting lapse and your project is offline, let your partner know that, too. The sooner your partner knows about a problem, the quicker they can help you brainstorm a solution.
Have a Contingency Plan

What happens if your partner is seriously injured or worse? What if your partner decides to go in a new direction with their business and wants out of the project? What if your partner wants to retire next year?
Although these situations are difficult to think about, they can occur. For this reason, both partners need to have a contingency plan in place. You need to know what your partner's wishes are in the event of a life-changing situation.
You also want a contingency plan if one partner wants to leave the project or sell their share of your joint business. 
Having a contingency plan in place can help you make decisions if your partner is incapacitated for some reason or make it easier to navigate the end of your partnership if need be. 
If you're struggling with a partnership, don't hesitate to get some coaching. A good coach can help you and your partner develop solutions that work for both of you.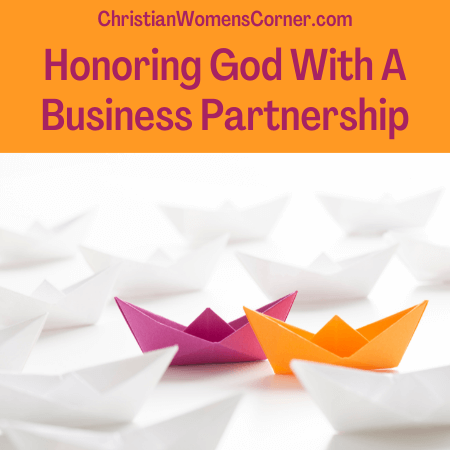 Money & Trust Go Hand In Hand: Managing Partnership Money

When it comes to partnerships, one of the top issues you need to agree on is money. You need to decide which partner will handle the financial side of the project.

Who Manages the Money?

For short-term partnerships, it's usually easiest to have one person managing the payments, paying affiliates, and splitting profits. The partner handling the finances also needs to keep detailed records of all transactions in the event of an audit. 
But what if your partnership involves multiple branches? What if you and your business partner sell multiple products, run membership sites, or host conferences? 
Setting Up Your Business Finances the Right Way

In these cases, you'll want to handle the money differently. You'll need to use a bookkeeping service or outsource the finances to an accountant. But first, there are a few steps that you'll need to take before you can hire someone else to manage this part of your business.
Start by filing to create an LLC together. An LLC is a limited liability corporation. It separates your business assets from your personal assets and protects both partners.
Start a Business Checking Account

As soon as your partnership has filed as LLC, you need to open a business checking account. This helps keep your personal finances separate from your business expenses. It may not seem like a big deal now, but you'll be glad you did this when it's tax time.

Get a PayPal Business Account

A business PayPal account will let you accept payments from users across the web. It's a trusted company that many customers will use. 
With a business account, you'll be able to add your business name to your PayPal account, and you can give multiple people access to the account. This means that both partners will be able to see and manage transactions in the account. 
Sign Up as an Affiliate

Once you have the legal paperwork and a PayPal account in your business name, you can sign up for affiliate programs together. This is a great way to add another income stream to your partnership.
The best way to manage the money you and your partner make through your project is to hire a bookkeeper. A bookkeeper will keep records of all your business transactions and help you avoid any nasty surprises come tax time.
Business Partnerships Are Beautiful

When two believers join together in harmony to create a project that serves their communities, it's truly a beautiful thing.  
The Bible reassures us that when two or more believers are gathered, the Spirit is also present with them, strengthening and encouraging them.
"20For where two or three gather in my name, there am I with them." (Matthew 18:20)
Grace and peace,
Alicia
Free Downloads
Whew! You made it to the bottom of this blog post. I appreciate you taking the time out of your busy day to read what was on my heart. I'd like to thank you by offering two free PDF downloads when you fill out the form below.
Make sure to click the box beside 'Subscribe to the CWC Email Community' to receive our monthly newsletter and a few emails a month to keep you informed about our community, updates on the website, and to send you cool free stuff!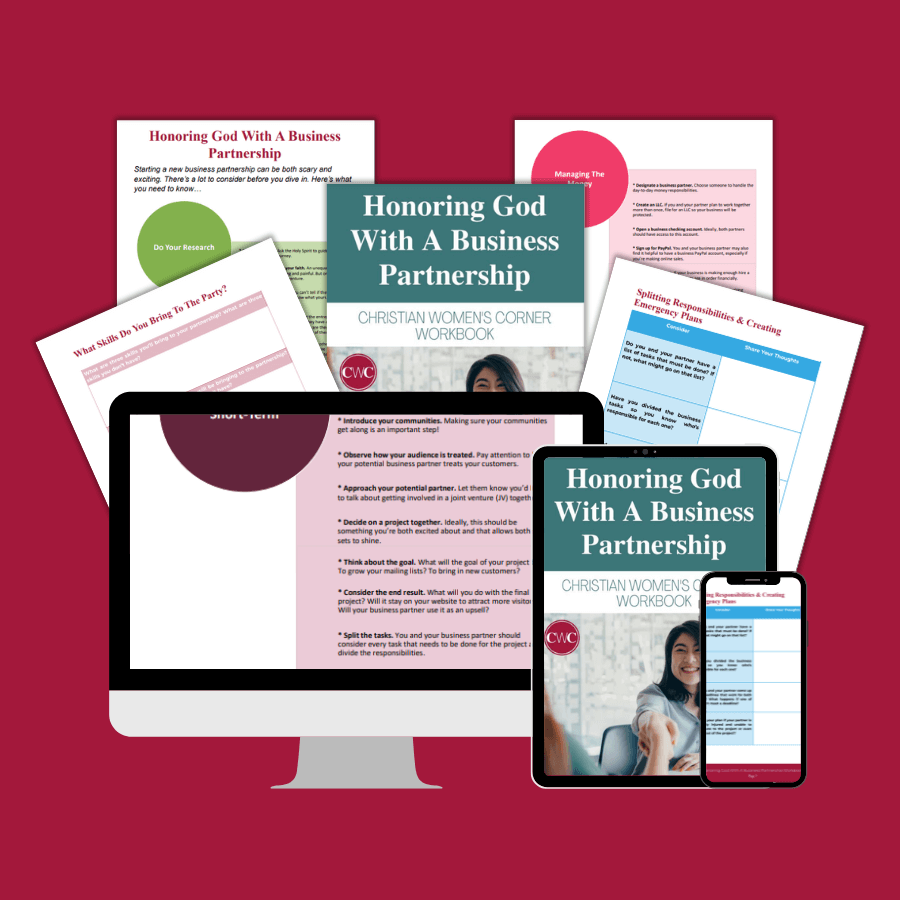 The first is a workbook that goes deeper into personal branding for Christians in the spotlight. It includes guided questions and places for notes.

The second is a checklist that contains tips, ideas and suggestions about personal branding and how to do it well.
You can read the PDF downloads on whatever electronic device you use and fill out the workbook answers in your own notebook. 
Another way to enjoy the downloads is to print them out on your home printer or email them to your favorite printer like the UPS Store, Staples Business Depot, or Kinkos and use them in printed form.
Your information is 100% private & never shared.