Working with A Christian Business Coach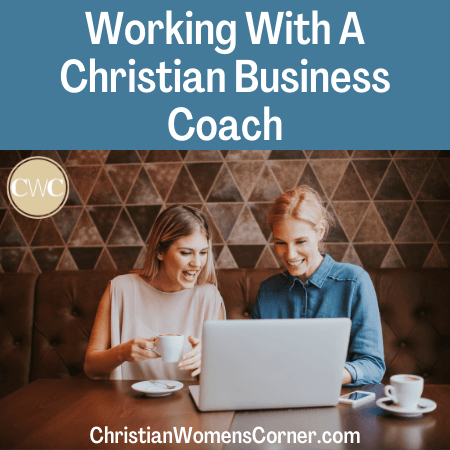 Ethan was a busy lawyer who dreamed of starting his own online business. He felt God calling him to do it, so he started a website, posted a few blog posts, and created his social media accounts for the business.
But then he stopped. Ethan didn't continue to move forward in building his online business. He said he was too busy and happy simply being a husband to his wife and a father to his beautiful daughters.
Fortunately, God brought Mason into Ethan's life. Mason was a Christian business coach who helped men like Ethan stop procrastinating and build a brand that honored God while creating a lifestyle most people could only dream of.
After just a twenty-minute discovery session together, Ethan instantly recognized that Mason could help him get his business started and bring to life the vision God had given him years ago.
Ethan isn't alone. Many Christian entrepreneurs dream of starting a business. You may have even taken the first steps toward it. But now you're feeling stuck, and you don't know what to do next. The answer might just be found in your relationships…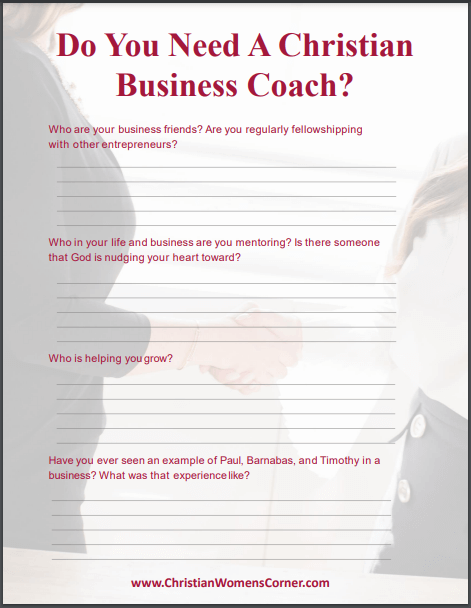 We have printable worksheets available to help you decide if you need a business coach. It includes guided questions that will trigger thoughts and ideas to help you create a well thought out plan. Click >>here<< for the worksheets.
3 Relationships Every Christian Business Owner Needs

An old and honored principle states, "Everyone needs Paul, Barnabas, and Timothy." These three men perfectly illustrate the concept of coaching in life, but their relationships can also be applied to business coaching.

Who Are Your Business Friends?

Barnabas is the one who walks beside you. He or she is your peer and your friend. This person may not have the same background or be building the same business as you. But they have a goal or vision for their lives similar to the one you have.
Many online business owners already have a Barnabas or two in their lives. These may be friends you made in a forum or Facebook group who also run online brands. Your Barnabas could also be someone you've met at an offline networking event and cultivated a deep friendship with.
Who Are You Teaching?

Timothy is the mentee. This person isn't on your level yet, so you're coaching them. You may do this in an official capacity, but most business owners quietly lead others in the background. 
You may call your Timothy an intern, an apprentice, or a student. Whatever word you prefer, your Timothy is the person you're pouring time and energy into.
Who's Growing You?

Paul is the coach who's further ahead in their journey than you are. This person is challenging and growing you. You can bring questions, get feedback, and learn how to navigate a difficult season in your life.
Sometimes your Paul will coach you through gentle nudges and lots of encouragement. They may also hold your hand and walk you through difficult tasks like setting up your membership software. 
But when needed, your Paul may also deliver a big kick in the rear. Your Paul won't accept excuses because they don't want to see your business stall for months or years while you "get around to it."
Who's Already in Your Life?

Look around at your relationships and ask yourself who God has already blessed you with. You may have a Barnabas friend that relates to your struggles. You may have a newbie who needs direction and help. 
Both of these relationships are important, but your coaching relationships aren't complete if you don't have a mentor of your own. You need someone more experienced who can teach you how to navigate your business.
Embracing these three relationships allows knowledge and wisdom to flow through you and your business from every angle. You need the cheerleading that comes from Barnabas, the teaching you pour into Timothy, and the insights that come from Paul. 
Big Picture Coaching: Help with Your Business Model & Strategy

You're fired up about your latest business goal. You know it's the direction that God is leading you into, but you're not sure how to get started. You try to make a list or brainstorm, but you find yourself overwhelmed and wonder how to bring life to the vision God has given you. 
If this happens to you, you need a Christian business coach who can help you with the big picture. But before you hire a business coach, here are three things you should keep in mind.
What Industry Your Business Coach Is Familiar With 

You can indeed learn a lot from other business owners, even if they're in different industries. But when it comes to coaching, you want a coach who understands your business model and knows how to make it profitable.
If you're looking to build a membership site to earn a consistent income each month, hiring a business coach who works with franchise owners won't be very helpful. You'll have questions and problems that your coach has probably never tackled.
But if you work with a business coach who knows your industry, you'll both enjoy the experience more. Your coach will be familiar with the lingo in your niche and can tell you what to expect at different stages in your business. He can also point out what pitfalls to avoid and mistakes that you may not be aware you're making.
What Reputation Your Business Coach Has

Kelly McCausey, a business coach and the founder of Love People + Make Money, says, "I recommend asking yourself a few questions before hiring a business coach. Ask if he has what you want. Is he working with exciting clients? Are his clients staying with him for several years? Does he have high-quality friendships in the industry? Is he liked and respected?"
You want to work with a business coach who has close friendships, partners with other JVs, and enjoys supporting business owners. This indicates your coach is someone who values both his integrity and his relationships.
Remember that you want to choose a business coach who shares your values. It's not God's plan for believers and unbelievers to partner together. Paul discusses this in 2 Corinthians 6:14.
"Do not be yoked together with unbelievers. For what do righteousness and wickedness have in common? Or what fellowship can light have with darkness?"
The meaning of this verse may be lost to modern readers. But to Paul's audience, the illustration made perfect sense. In Biblical times, two oxen were joined together to pull a heavy load. If one of these animals were weaker than the other, they wouldn't be able to accomplish the task. 
It's a similar concept for Christians today. If you choose to be coached by someone that doesn't share your faith, the burden will be much more significant, and you're less likely to receive godly advice.
What Methods You Want to Use

Suppose you want to build your traffic organically and focus on creating a community around your content. In that case, you likely won't be happy with a Christian business coach who believes in high-pressure tactics and closing the deal. It's not that the coach is necessarily bad. 
You and the coach prefer different methods for achieving the same goal. Always look for a coach that uses methods you like and are comfortable with. You'll be much happier working with a coach who understands your vision and supports the methods you want to use. 
When choosing a business coach for big picture business-building, take your time. Choose a coach that inspires you and has a positive history in your industry.
Should You Look for a Specialty Coach?

Jim had been working as a service provider, trading hours for dollars. But he wanted more freedom in his life, so he started looking for ways to make money without having to offer services. After doing some research, he decided he wanted to create courses and sell them to his followers.
There was just one problem—Jim didn't know how to create a course. He voiced this concern to a friend in his industry, and his friend suggested hiring a specialty coach. He explained, "A specialty coach focuses on helping you improve one specific area of your business."
You may have a few questions if you're like Jim and haven't heard about specialty coaches. Read on to learn more about this type of coaching and whether it's right for your business…
What Types of Specialty Coaches Are There?

You can find specialty coaches for almost every area of your business. Some coaches focus on helping you build your mailing list, grow your social media following, launch your podcast, create courses, or improve your copywriting skills.
The advantage of hiring a specialty coach is that you can save hours of your time. Your coach has insider knowledge and can tell you precisely what you need to do to achieve your goal.
Often, God gifts a specialty coach in one area. In 1 Corinthians 12, Paul explains,
12"The human body has many parts, but the many parts make up one whole body. So it is with the body of Christ."  (1 Corinthians 12:12)NLT
It's the same concept with business. God may have gifted your coach with the ability to simplify complex technical topics so you can finally get your online shop running. Or He may have given your coach the ability to create community so you can understand how to grow your online platform.

How Many Specialty Coaches Should You Have? 

When it comes to hiring a specialty coach, take on just one or two at a time. If you try to add too many specialty coaches to your plate, you're likely to risk getting overwhelmed. This can make it hard for you to follow through on assignments and complete them.
Another risk with having multiple coaches at once is that you're learning so much that it can be challenging for your brain to retain everything. You also face the possibility of burnout, which can set your business back for months or even years.
Instead, pray over it and ask God which area of your business you should be focusing on during this season. God may lead you to work on developing your speaking skills or refining your social media platform. Whatever it is, trust God's leading and go after it with gusto!
How Long Should You Work with a Specialty Coach?

When working with a specialty coach, try to commit to a specific time period. For example, you might say, "I'll work on developing my podcasting skills for the next six months."
If you're not sure how long you should plan to focus on this new skill, ask your coach. Your coach may recommend you work on list building for the next twelve weeks or suggest a time frame based on how quickly you'd like to advance.
Hiring a specialty coach is like hiring a fitness coach. He can show you the exercises to do and correct your form, but it's up to you to implement what you're learning. You have to do the hard work, but your coach will be there to cheer you on the entire time.
Big Breakthroughs with a Mindset Coach

Sam was stuck in a rut with his business. He taught DIY graphic design to his customers. He had released two courses and had built a responsive mailing list, but he still struggled. No matter how hard he worked, it seemed Sam couldn't hit the next level in his business. 

Sam's Breakthrough

He finally reached out to a Christian business coach and had a consultation session. Sam realized his problem wasn't his marketing or branding that held him back during the call. It was his own false beliefs that he'd picked up early in life.
When Sam began to tackle these beliefs, he could see his business clearly. He changed his branding to reflect more of his personality and raised the price of his courses. 
Sam was earning more than he ever had before within a few months. But that wasn't the only perk. He also enjoyed his work more and woke up eager to serve his community every morning.
Are You Ready for a Big Breakthrough?

Like Sam, you may want to become successful, but something keeps tripping you up. You can't quite put a finger on it. You just know it's there. Maybe you also struggle with limiting beliefs. If that's the case, you need a business coach focused on stretching you and growing your mindset. 
Understand that your mindset coach might tread into your personal life and history. That's because many mindset issues result from life issues that need to be processed and dealt with.
Mindset Work Is…Work

Remember that changing your mindset isn't about simply wishing for good things and watching all of your dreams come true. Mindset coaching goes deeper. It helps you find the root of your false beliefs and discover how they developed.
Remember that Satan loves to sow false beliefs in with our true beliefs, much like the parable of the wheat and the weeds. If you're not familiar with the passage in Matthew 13:24-40, it's about a man who plants a field of wheat. While he sleeps, his enemy comes and plants weeds in his field. 
Satan often does something similar to our mindset. You might know that you are loved by God and chosen for Kingdom-building work. But Satan comes and reminds you of your childhood poverty. 
"See," he points out, "You can't trust God to care for your family while you build a business. You have to maintain the day job and forget about this foolish dream."
Your Beliefs Guide Your Behavior

Not only do false beliefs hold you back from what God wants for you, but they also guide your behavior. That means even if you don't want to, you're probably living out a belief of scarcity based on your experiences with childhood poverty.
But a compassionate Christian coach can help you pull out the weeds from your wheat field. Doing this isn't easy and can be uncomfortable, especially at first. But if you genuinely want to experience growth in your business, you have to tackle the mindset issues that are holding you back.
Remember to choose a mindset coach that you connect with and trust completely. Doing mindset work requires vulnerability, and you want a coach that will be gentle with you during this process. 
You may dive into areas where you need compassion and kindness. A good mindset coach knows this and can support you as you grow and heal.
5 Tips for Hiring a Christian Business Coach

Nathan found a Christian business coach he liked, but he was still nervous about the hiring process. So, he went to his favorite online business group and asked for tips on hiring a coach. These are some of the tips his friends shared with him…

Tip #1: Watch Out for Superficial Signs of Success

It would be best if you didn't choose a business coach based on superficial demonstrations of success. You may see a coach talking about lavish vacations, posting photos of himself kicked back on the beach with a laptop, or showing off his million-dollar home. It's not that the coach is necessarily lying, but these are signs of success that anyone can mimic.
It's easy to get stars in your eyes about people who appear to be successful from the outside. Sometimes, a client can invest heavily into a coaching program only to discover that the coach has very little true value to offer.
Tip #2: Know What the Program Will Look Like

Before you sign on the dotted line, make sure you know what the coaching program will involve. For example, you could sign up for a coaching program about sales funnels. But is it a group coaching program where you and several others participate during a weekly call? Is it a one-on-one coaching program where the coach personally reviews your latest funnel and gives you tips on how to improve it?
Some coaches may sell pricey programs where you never get direct access to them. You may get access to their coaching team or a community rather than the coach. That may work well for you depending on where you are in your business and what type of training is offered. But know what you're getting into upfront, so there's no disappointment later.
Tip #3: Talk to Others

Read the testimonials on a coach's website carefully, then reach out to one or two clients. Ask if you can have a quick chat about their experience working with the business coach. This will give you an inside look at what you can expect during your coaching process.
You can also ask around in a business group. You could say something simple like, "I'm thinking of working with [Coach's Name]. Do you have any feedback for me? Have you heard anything good or bad about him?"
Tip #4: Arrange for a Quick Chat

If you're thinking of working with a business coach, arrange a time to have a quick chat with him. Share the vision God has given you and ask whether he can guide you along the path to do that. Pay attention during the call. Do you like his personality? Do you connect with him? Does he appear to value the same things you do? Do you feel that he's a humble teacher, or does he use condescending language and devalue the work others are doing?
Tip #5: Discuss the Dollars

Don't be afraid to bring up the topic of money. Your coach probably won't share dollar figures about his income. He is entitled to privacy, but he should be able to tell you how he makes most of his money. 
Some coaches appear to be earning millions, but a quick conversation reveals their wealth is from another source like their daytime job or their wife's business.
If your business coach won't answer any questions about how he makes his income, be suspicious. A good coach can prove his track record easily and isn't afraid to share a few basics about how he's earning most of his income. 
He might be able to point to his membership site and say, "I earn 70% of my income through the membership site and the other 30% through publishing Kindle books under a pen name."
After listening to his friends, Nathan realized his business coach sounded like a good investment. So he arranged for a quick introductory chat and found he loved the coach's energy and personality. Later that week, he happily signed up for a long-term coaching arrangement.
Find Your Tribe

It's a beautiful thing to be part of the Paul, Barnabas, and Timothy circle. You get the joy of mentoring someone new, the fun of journeying with someone who knows how you feel, and the blessing of learning from someone else's wisdom.
Don't be afraid to give coaching (from both sides) a try. It just might change how you see your business forever.
Grace and peace,
Alicia
Free Downloads
Whew! You made it to the bottom of this blog post. I appreciate you taking the time out of your busy day to read what was on my heart. I'd like to thank you by offering two free PDF downloads when you fill out the form below.
Make sure to click the box beside 'Subscribe to the CWC Email Community' to receive our monthly newsletter and a few emails a month to keep you informed about our community, updates on the website, and to send you cool free stuff!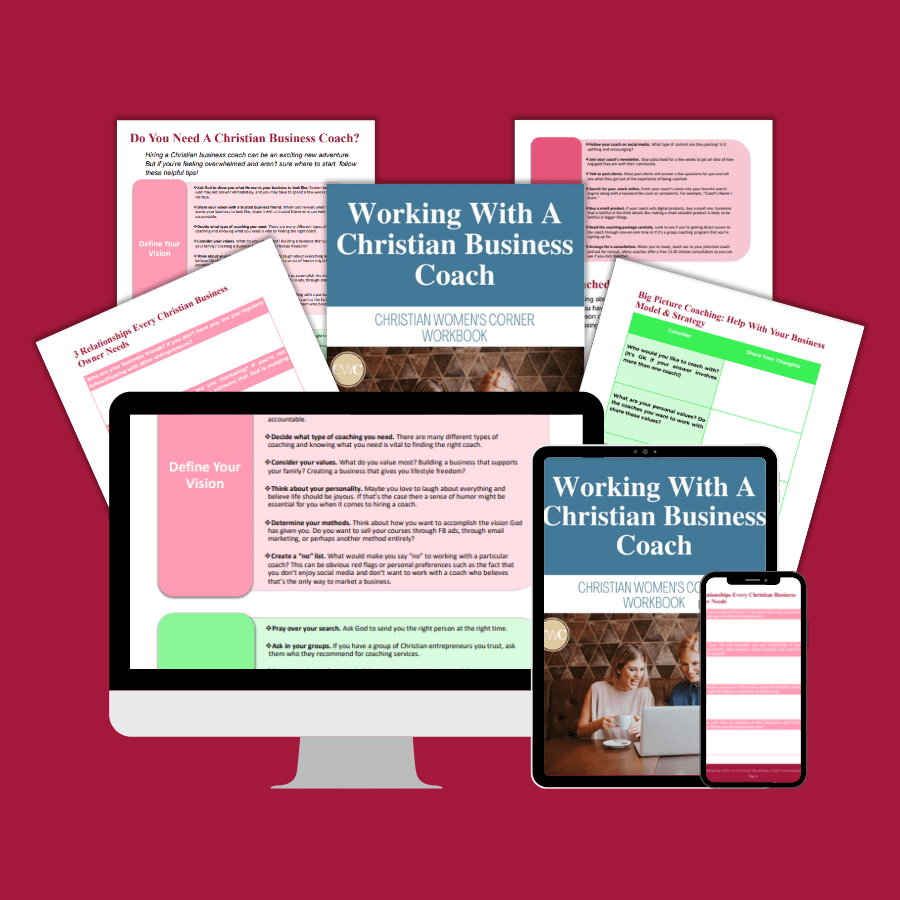 The first is a workbook that goes deeper into the benefits of working with a business coach. It includes guided questions and places for notes.

The second is a checklist that contains tips, ideas and suggestions to help you decide if you need a business coach.
You can read the PDF downloads on whatever electronic device you use and fill out the workbook answers in your own notebook. 
Another way to enjoy the downloads is to print them out on your home printer or email them to your favorite printer like the UPS Store, Staples Business Depot, or Kinkos and use them in printed form.
Your information is 100% private & never shared.