We only send emails to amazing people😊❤️
Hi,
Welcome to our very first newsletter issue! Some of you have been on our email list for a while and we realize we have been negligent in this area. Our apologies.
From this first mailing forward, we will be sending out a monthly newsletter with all the latest CWC news the first day/week of every month. We may also add in a few shorter emails during the month if anything exciting comes up that we'd like to tell you about.
You can expect us to keep you informed about our community, interesting blog posts, special sales promotions, and cool free stuff!
If you like this newsletter, please do a friend and me a big favor and "pay it forward."
If a friend DID forward this to you and if you like what you read, please subscribe by visiting our... CWC Email Community Page


---
April 1, 2022: CWC Newsletter Issue #001

In This Issue:
~We're celebrating Easter with a special Easter blog post.
~ You'll also receive the latest news in our Good Morning Girls Facebook group.
~ We wrote a short devotion just for you.
~ Free Stuff!: A coloring page featuring 5 scripture cards.
---
Easter Blog Post: When God Resurrects And Restores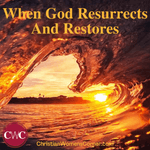 Resurrection comes in many forms. But there are actually several different types of resurrection that can affect your life. Please take the time this Easter month of April to read our special blog post about how God can restore many areas of your life that you may be struggling with right now. Click here to read >> When God Resurrects And Restores



---

Latest News In Our Good Morning Girls Facebook Group
Only 3 days away from our Spring Bible study in 1 Chronicles! We will begin Monday morning at 7am with our posts which include the daily scripture reading, SOAK study, reflection questions, and bible coloring.

Here is all the info you need about the 1 Chronicles study>> Good Morning Girls 1 Chronicles Study Resources

If you have a friend who would like to join us please invite them! We would be happy to have them. Here is the link to our Facebook group sign-up page>> CWC Facebook Group Page


---



Continuing our Easter theme and the idea of resurrection and restoration, please read the following devotion.
Who Is Your Lazarus?
Then Jesus said, "Did I not tell you that if you believe, you will see the glory of God?" – John 11:40
Lazarus and his sisters, Martha and Mary, were close friends of Jesus. So when their brother was ill, the sisters sent for Him, saying, "The one you love is ill." (John 11:3)
But Jesus didn't drop everything and leave. He waited two days before journeying to see Lazarus. As He departed, he told his disciples that Lazarus was asleep and it was time to wake him.
When Jesus arrived, Martha hurried out to meet him. Her anguished cry reflects on our own during times of pain, "If You were here, this wouldn't have happened…."
This is when Jesus reminds her of his Divinity. He says He's the Resurrection and the Life and asks her if she believes.
"Yes, Lord," she replied, "I believe that you are the Messiah, the Son of God, who is to come into the world." (John 11:27)
In times of pain—before the Lord has healed an illness or restored a relationship—it can be tempting to focus on what hasn't happened or get trapped into an endless cycle of questions.
But Jesus encouraged Martha to focus on His identity rather than her pain or circumstances. Re-affirming what you believe about Jesus can be a powerful way to find peace, even in the middle of deep pain.
Jesus, I believe You are the Messiah. You came into the world to rescue and redeem me. I don't know why it seems that You haven't moved in my situation, but I'm choosing to trust in Your character. You are good and faithful always. Amen.


---



Many of you in our CWC community love coloring! We have a great free download for you today that you can print off and color in. This downloadable PDF in one 8 1/2x11 sheet of five scripture cards with a cute spring theme that you can color in.

You can use these cards to memorize the scripture on them. The scripture verses on each card are: Psalm 37:4, Ephesians 4:32, Jeremiah 29:11, Proverbs 3:5, and Psalm 136:1.

Below is a picture of the scripture cards.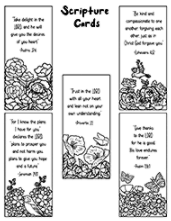 Please click the scripture cards link to download your PDF. We recommend printing the cards out on card stock if you want to keep them for memorization purposes. >> Scripture Cards <<

Grace and peace,

Alicia


---

Comments? Ideas? Feedback? I'd love to hear from you. Just reply to this email newsletter and tell me what you think! 😊


---